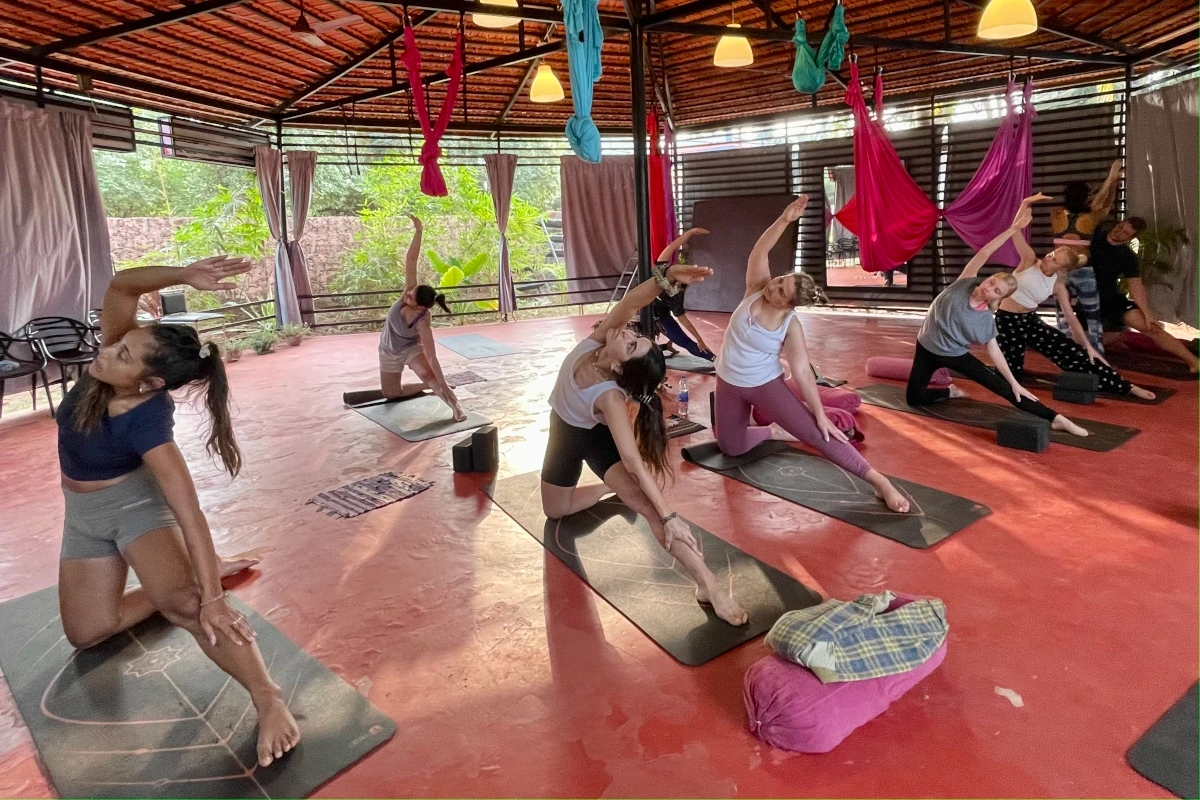 Pancha – 5
Join us for a rejuvenating and relaxing 5-day yoga vacation at our beautiful studio in Goa. Our experienced yoga instructors will guide you through daily yoga sessions, pranayama, and meditation practices that will help you unwind and refresh your mind, body, and spirit.
During your stay, you will also have plenty of free time to explore the stunning beaches of Goa, indulge in delicious healthy meals, and connect with other like-minded individuals
Yoga is the journey of the self, through the self, to the self

–The Bhagavad Gita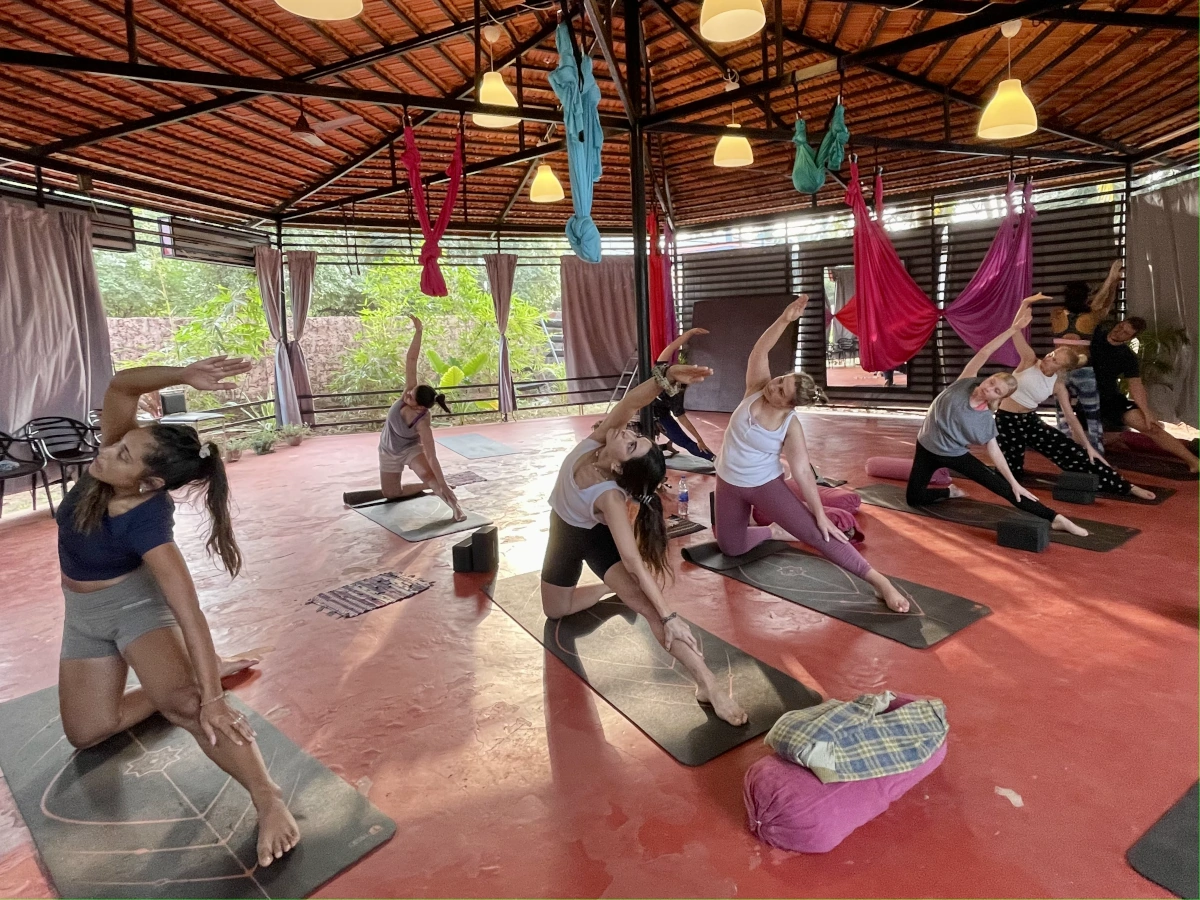 Participation Certificate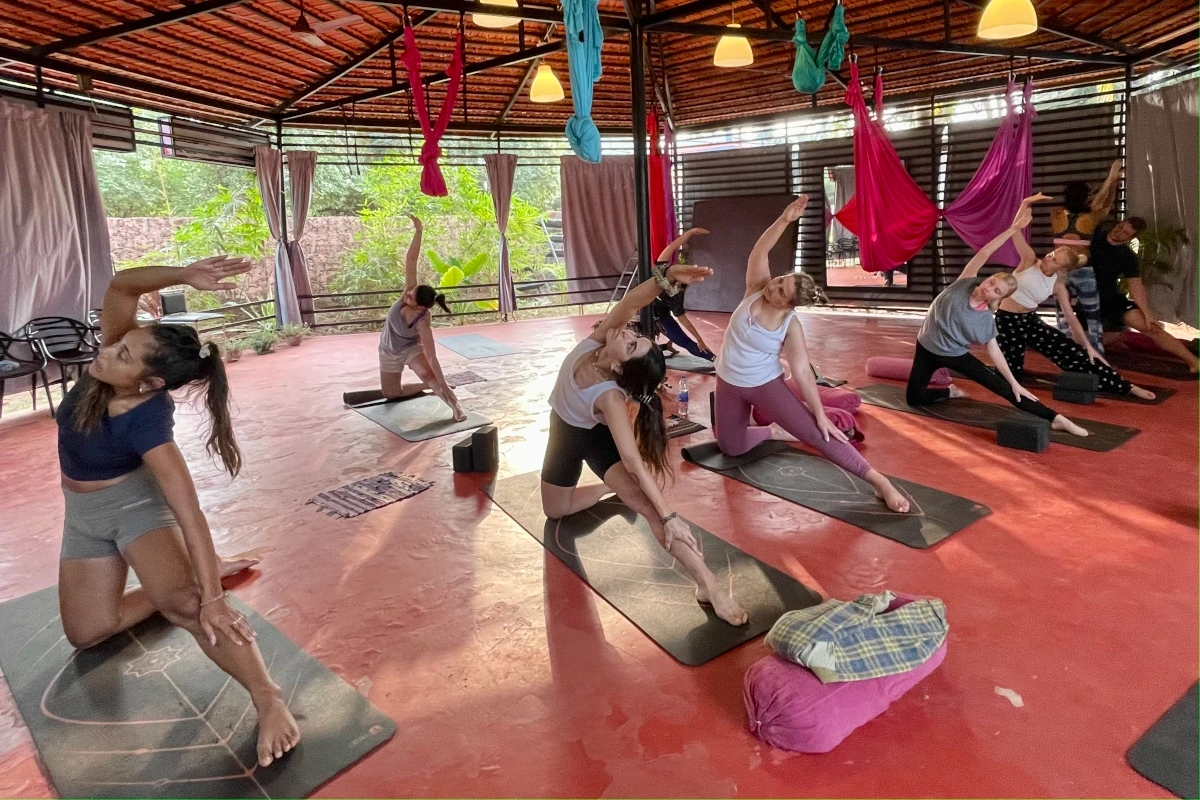 Our School provides a Participation Certificate in our 5 Day Yoga Vacation at Om Studio, Agonda.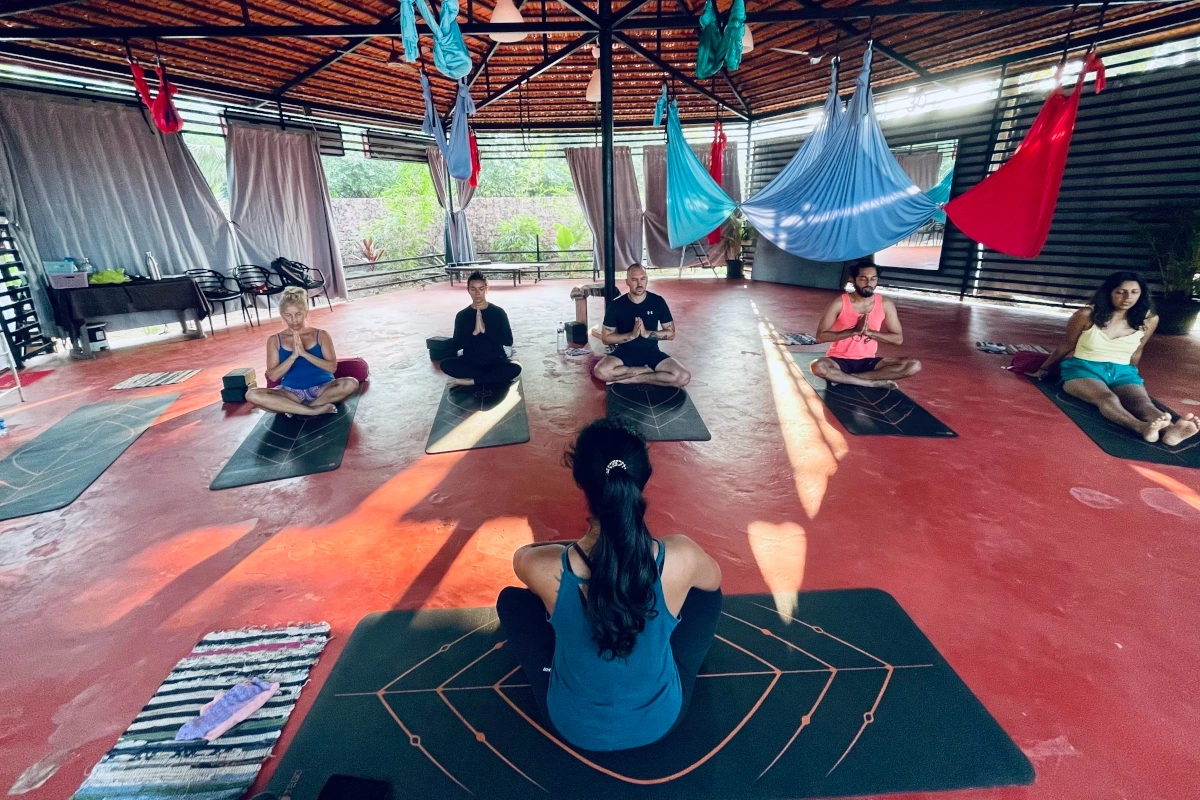 Practice with our experienced teachers in our sea view Yoga Shala set in the tropical and magical land of South Goa, a space where like minded people exchange experiences, ideas, learn & grow together.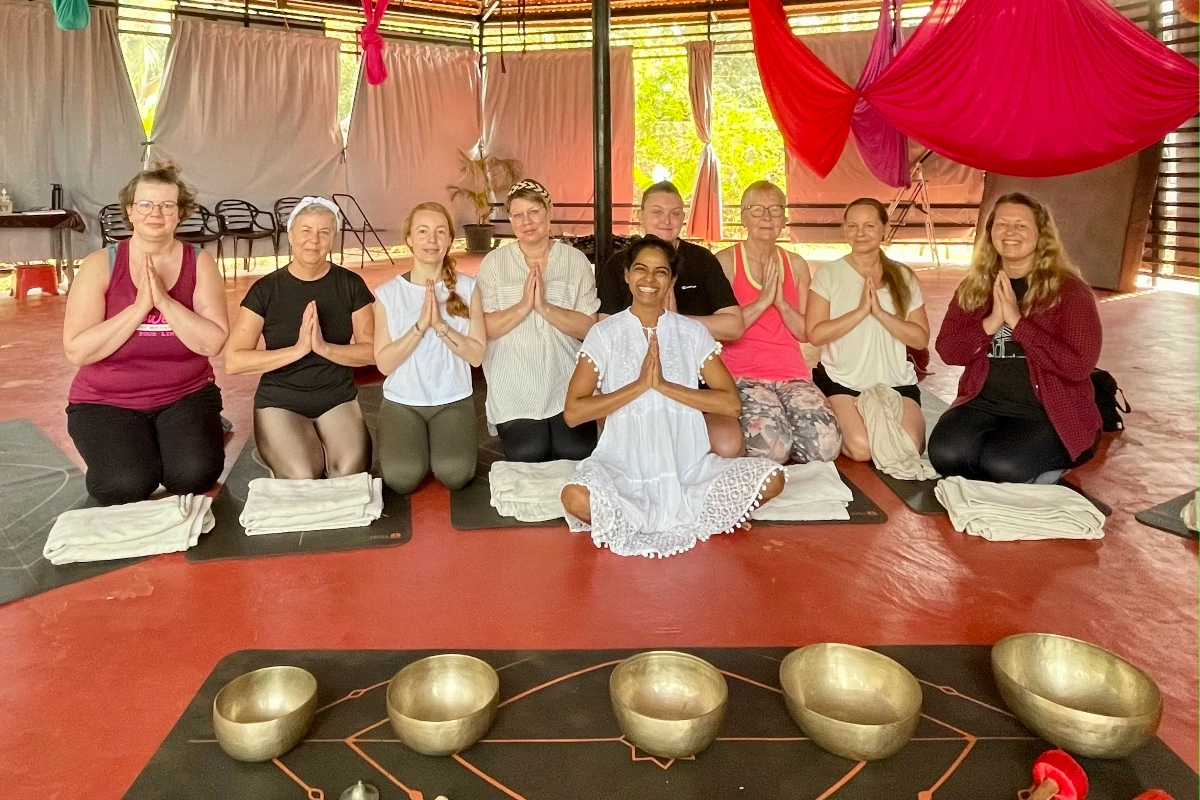 Take this opportunity to treat yourself to a life-changing experience that will leave you feeling refreshed, relaxed and rejuvenated. Take a break from your busy schedule and join us for a 5-day yoga vacation at our beautiful studio in Goa.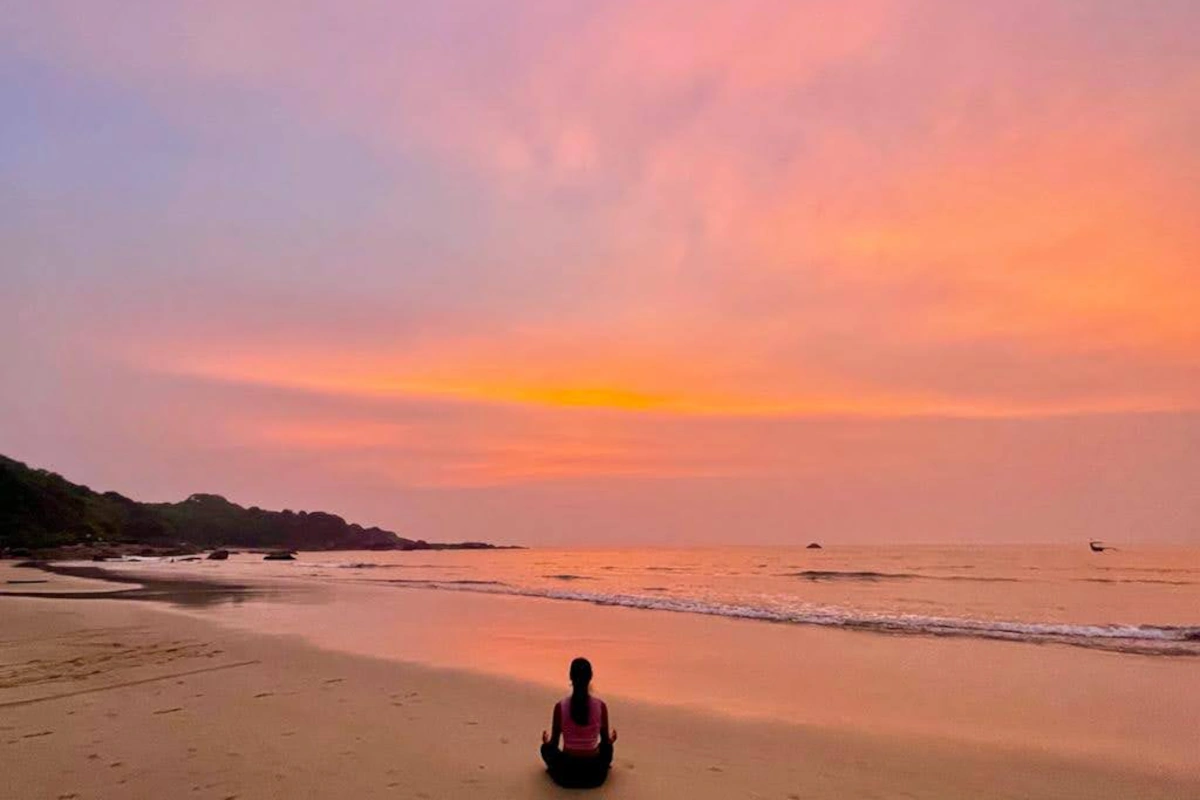 Yoga Vacation Details
Yoga Vacations offering an unparalleled experience in the Tropical paradise of Agonda. Connect with Nature & yourself. An immersion of 5 days by the serene beaches of Agonda, South Goa. Our Yoga Vacations are designed to cater to all your yoga and wellness needs, provides a holistic approach to your health and wellbeing along with providing a perfect setting to connect with your inner self and develop a deeper sense of mindfulness. 
Each day begins with an early morning yoga session to awaken your senses and align your body. Followed by a delicious and nutritious breakfast, you have ample time to relax, unwind and explore the beauty of Goa. Our experienced and certified yoga instructors will lead you through various yoga classes like Hatha, Vinyasa, Yin and Restorative yoga, which are suitable for beginners and advanced practitioners.
Pancha – 5 Days
Morning and evening yoga sessions
Daily pranayama and meditation practices
Introduction to Kriyas
Basics of Aerial Yoga
Sound Meditation with Singing Bowls
5 nights' accommodation in a beautiful guesthouse
3 healthy and nourishing meals per day
Philosophy of Yoga &87=96dkj;; Group Discussion
Complimentary airport transfer
Nature Trail & Art therapy
An opportunity to meet other yoga enthusiasts from around the world
Trini – 3 Days
4 Yoga Practice Classes of 1.5 hrs each
1 Pranayama Classes
Basics of Aerial Yoga
Kriya : Jal Neti Practice
Sound Meditation with Singing Bowls
Guided Meditation
Philosophy of Yoga & Group Discussion
Nature Trail
String Art workshop
Sample Schedule – 5 Days
Yoga Vacation Schedule
7.00am-8.00 am
Pranayama Class
8.00am-9.30 am
Yoga Class
9.30am-10.30
Breakfast Break
10.30am-11.30am
Lecture / Workshop
11.30pm-4.00pm
Lunch Break
4.00pm-5.00pm
Yoga Class
5.00pm-6.00pm
Meditation
6.00pm Onwards
Rest
In spite of such an intensive schedule, you could find this training an enlightening and interesting process of transformation & learning. During your training, you will have an opportunity to live with nature.
Daily schedule is subject to change, your flexibility allows trainers  to adjust to students' needs.
Accommodation
We offer an unparalleled training set by the pristine Agonda beach in South Goa. We provide comfortable and affordable accommodation options for our students. Our rooms are located in close proximity to the training site and come with modern amenities that ensure your comfort and convenience.
Who can participate?
Anyone who has the zest for life and soaking in new experiences in nature's lap
A yoga explorer or enthusiast
Nature, Wellness and Adventure Lover
All levels of practitioners are welcome
Looking to connect with oneself and immerse in nature
Looking to explore new elements of movement of the body and the breath
Takeaway
Yoga Information booklet
Jal Neti Kriya pot
"Yoga isn't just about the physical postures – it's about connecting with yourself on a deeper level and finding inner peace. The healing power of yoga is truly transformational." 
Book now and embark on a five-day journey of self-discovery, harmony and pure bliss!