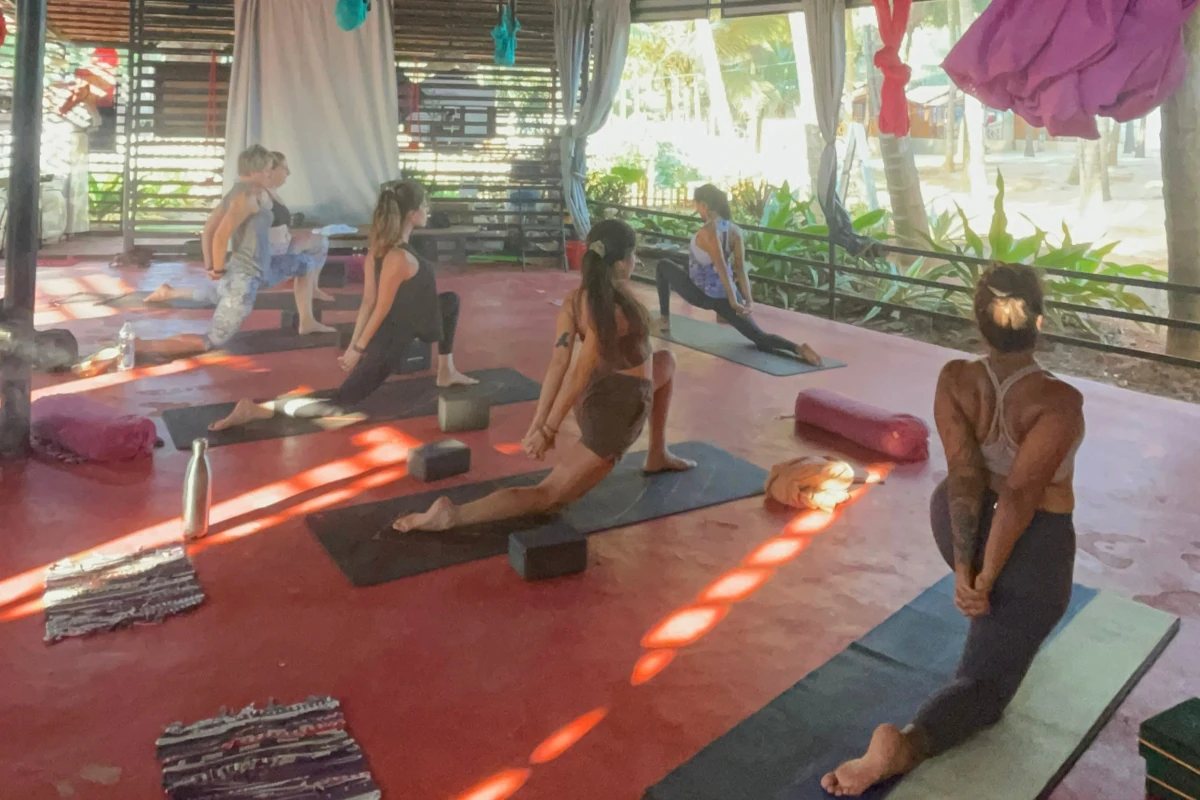 Classes
Yoga Classes
Drop in classes that energize your body & mind, suitable for all levels.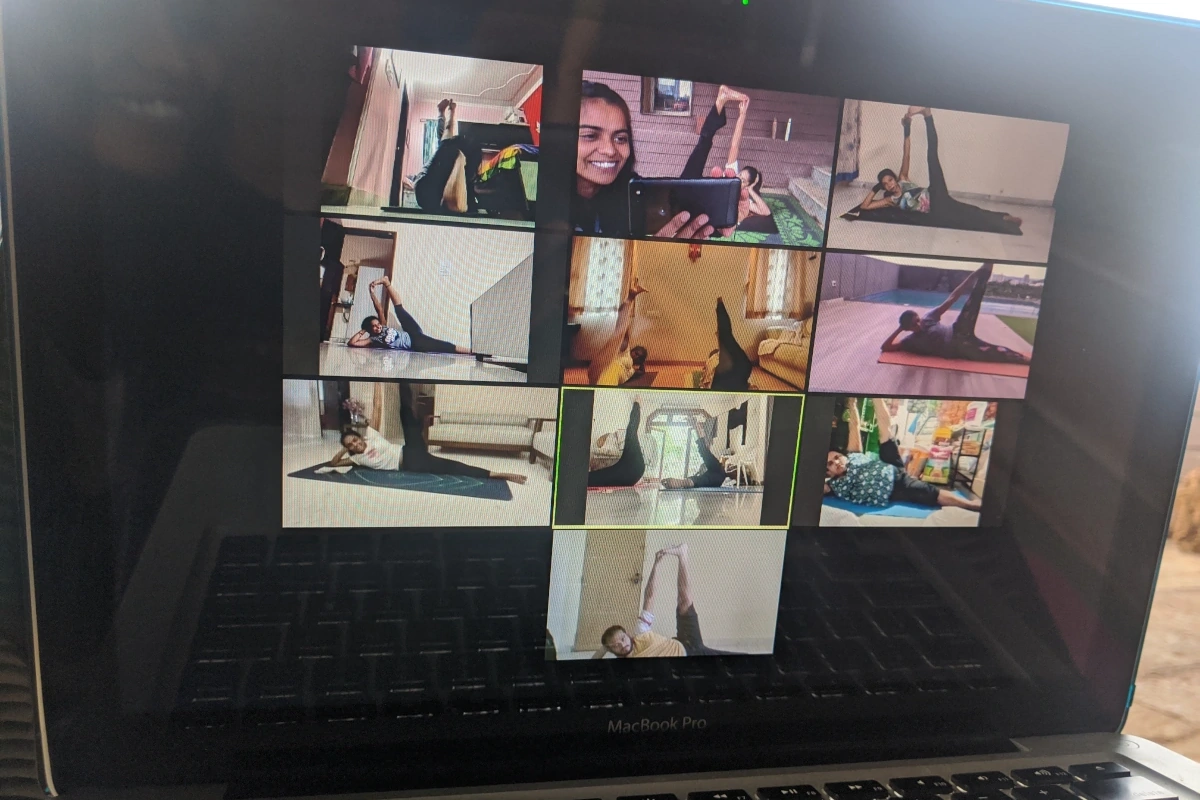 Yoga Online
Consistent guidance from experienced teachers along with staying fit from the comfort of your home.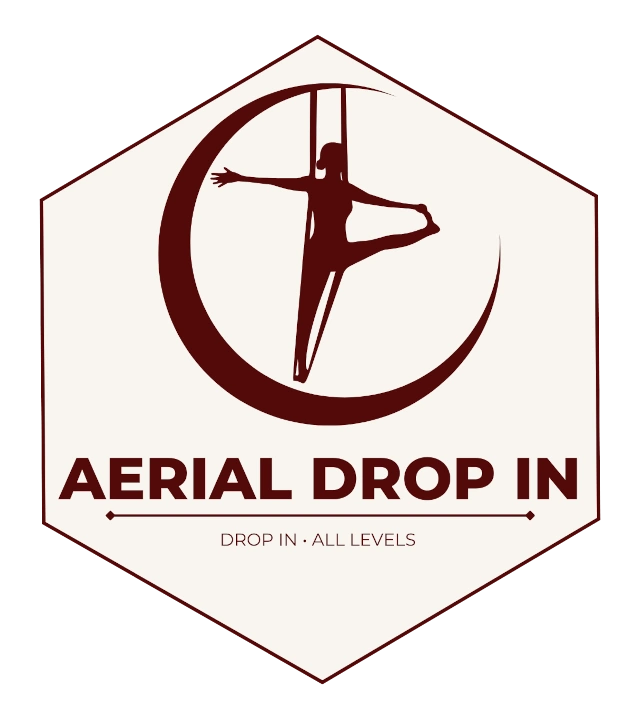 Aerial Drop In
An exciting way to spice up your yoga practice, Join us for a class led by our experienced & internationally certified teachers.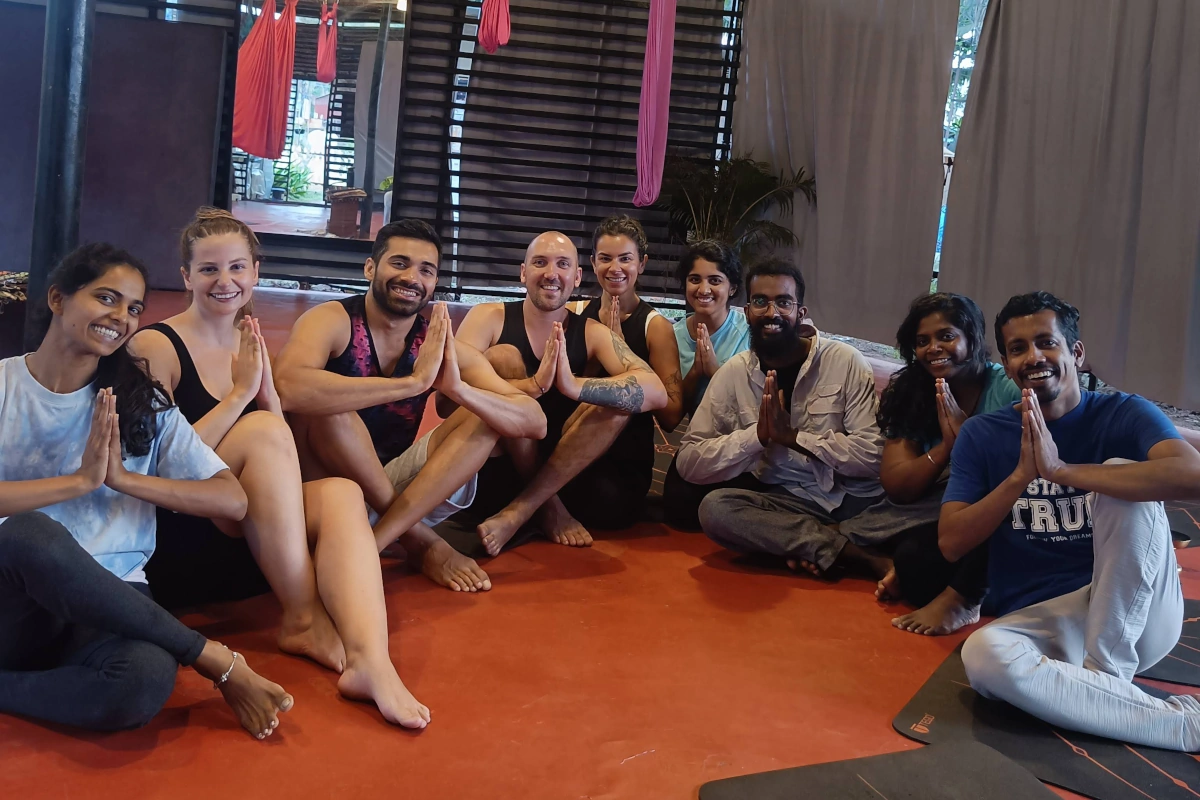 Workshops
Transformative Workshops to Awaken New Insights and Ideas
In these heart-to-heart sessions, you will receive next-level personal growth tools, learn about the yogic lifestyle & new arts to learn,along with receiving guidance for your personal practice and discover ways to implement healthy and balanced routines into your daily life.
Sound Meditation, Pranayama, Yog Nidra, Acro Yoga, Thai Body Work, Poi & Fire Spinning, Art Therapy, String Art & Kids Special Workshops & many more.
Sound Meditation, Pranayama, Yog Nidra, Acro Yoga, Thai Body Work, Poi & Fire Spinning, Art Therapy, String Art & Kids Special Workshops & many more.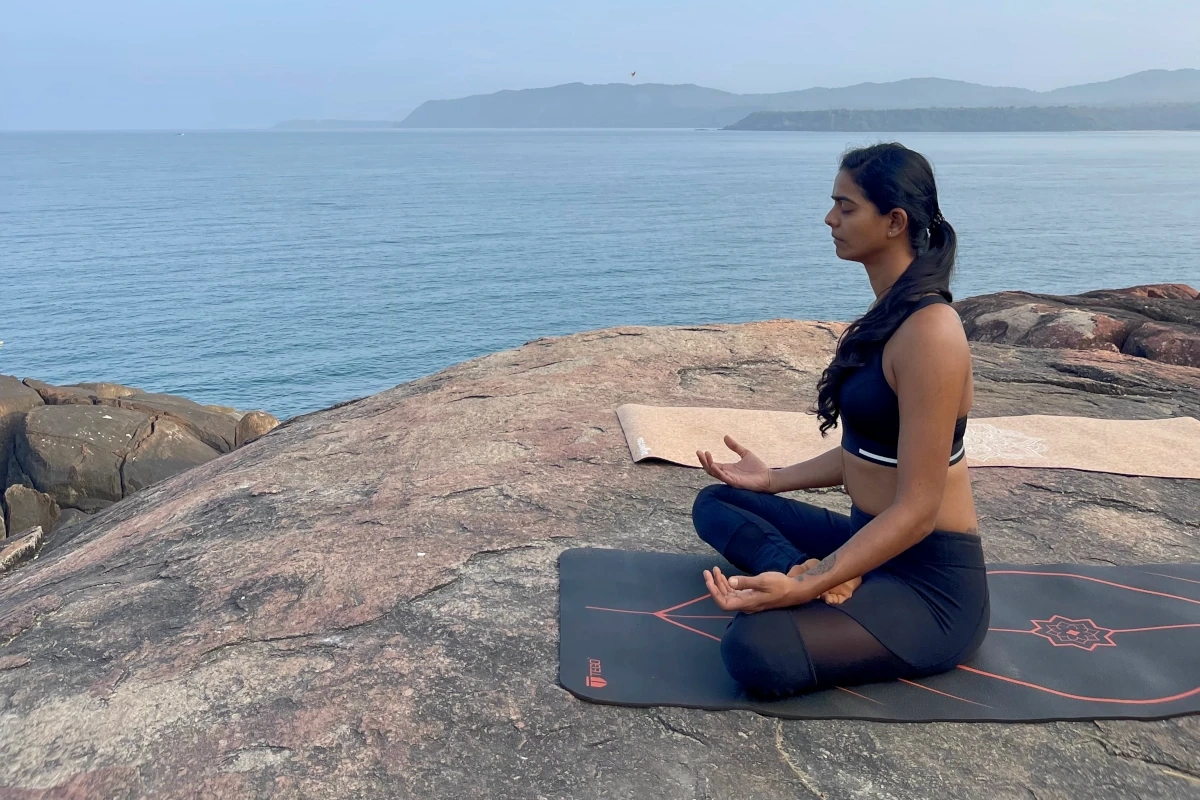 Pranayama
Breathe, Reconnect, Thrive
Pranayama, the ancient yogic practice of breath control, is a powerful tool for enhancing physical, mental, and emotional well-being.We invite you to experience the transformative power of Pranayama – the art of breath control – in our enriching Pranayama Classes and Workshops. We offer rejuvenating and transformative Pranayama workshops on the weekends and classes through the week.
Our Pranayama weekend workshops are designed to provide an immersive experience, allowing participants to explore various breathing techniques and understand their unique benefits. From Anulom Vilom (alternate nostril breathing) to Kapalabhati (skull-shining breath), our workshops cover a wide range of practices that address specific physical and mental needs.
To further enhance your well-being, we also offer complementary practices like meditation and gentle yoga as part of our workshops. These practices complement Pranayama by calming the mind, enhancing self-awareness, and promoting a holistic approach to wellness.
During our weekday daily classes, we focus on creating a consistent Pranayama practice that participants can integrate into their daily routine. Through guided instruction and personalized attention, our experienced instructors help students refine their techniques, deepen their breath awareness, and gradually explore more advanced practices.
Not only do our Pranayama workshops and classes offer profound benefits for overall well-being, but they also provide an opportunity to connect with a like-minded community. Our studio in Goa has a welcoming and inclusive atmosphere, where people from all walks of life come together to experience the transformative power of Pranayama.
The Essence of Pranayama
Harness the Power of Prana
Pranayama is the ancient yogic practice of channeling vital life force energy, Prana, through breath control. Discover the profound impact of conscious breathing on your physical, mental, and emotional well-being.
Classes for All Levels
Whether you're new to Pranayama or seeking to deepen your practice, our classes and workshops cater to practitioners of all levels. Our experienced instructors provide personalized guidance and modifications as needed.
Embrace Oceanic Serenity
Our beachfront setting adds an extra layer of tranquility to your Pranayama journey. Breathe in the salty ocean air as you connect with nature's rhythm during your practice.
Stress Relief and Calmness
Pranayama techniques are powerful tools for stress reduction and anxiety relief. Learn to calm the mind, restore balance, and cultivate a sense of inner peace.
Enhanced Breath Awareness
Explore various Pranayama techniques to heighten breath awareness. Cultivate mindfulness and deepen your connection to the present moment through conscious breathing.
Unlock Vital Energy
Experience the revitalizing effects of Pranayama as it unlocks blocked energy pathways, fostering vitality and rejuvenation.
Workshops for In-Depth Learning
Dive deeper into the world of Pranayama through our immersive workshops. Understand the science behind breath control and how it positively impacts your overall well-being.
Integrating Pranayama into Your Yoga Practice
Learn to seamlessly integrate Pranayama techniques into your yoga practice, enhancing the benefits of your asana practice and fostering a deeper mind-body connection.
The Journey Within
Pranayama invites you on an inner journey of self-discovery and introspection. Explore the potential of breathwork to tap into your inner wisdom and serenity.
Harmonize with Nature
Allow the rhythmic sound of the waves to harmonize with your breath during our Pranayama classes. Feel the grounding connection to the earth and the expansive embrace of the sky as you breathe in unity with nature.
Reserve Your Spot
Our Pranayama classes and workshops have limited availability to ensure a focused and enriching experience for each participant. Be sure to reserve your spot in advance to embark on this soul-nourishing journey.
Join us for a rejuvenating and transformative Pranayama experience at Om Studio, Agonda, where the beauty of Goa's beaches merges with the art of breath control. Embrace the power of Pranayama and unlock the path to a balanced and harmonious life.
Yog Nidra with Sound
Journey into Deep Relaxation
We invite you to experience the profound bliss of Yoga Nidra – a guided meditation and relaxation practice that takes you on a transformative journey of inner peace and rejuvenation. A Complete Step-By-Step Meditation Technique to Find Inner Peace and Enhance Mindfulness. Learning and practicing the noble art of silent meditation is an essential life skill.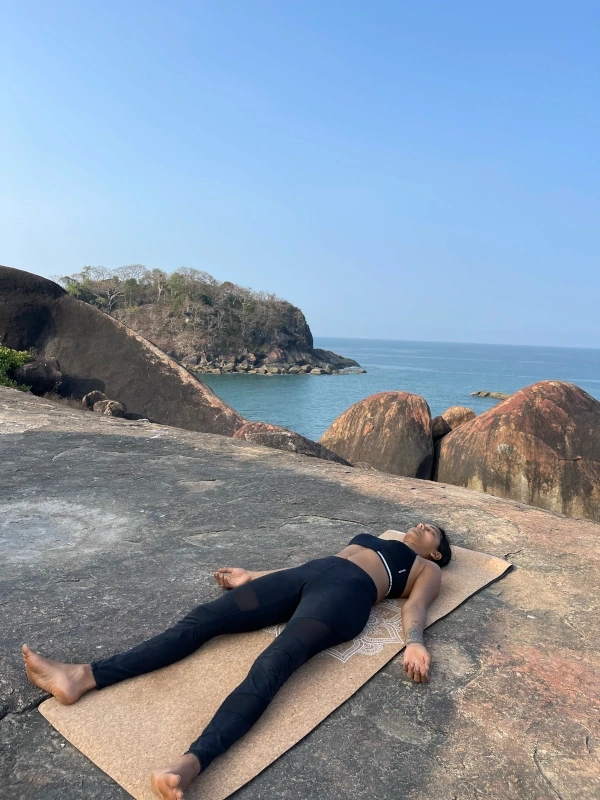 The Essence of Yoga Nidra
Dive into Deep Relaxation
Yoga Nidra, often referred to as "yogic sleep," offers a state of profound relaxation while maintaining full consciousness. It's a powerful practice that unwinds the layers of stress and tension, leaving you feeling refreshed and rejuvenated.
Guided by Experienced Instructors
Our Yoga Nidra sessions are guided by experienced instructors who skillfully lead you through the practice, inviting you to delve into the realm of subconscious awareness.
Beachfront Serenity
Picture yourself immersed in Yoga Nidra on the sandy shores of Goa's mesmerizing beaches. Let the gentle sound of waves soothe your mind and connect you to the serenity of nature.
Release Mental and Emotional Burdens
Through Yoga Nidra, you'll learn to let go of mental chatter and emotional burdens, creating space for tranquility and inner harmony.
Cultivate Deep Mindfulness
Experience a heightened sense of mindfulness as you explore the realm of awareness between wakefulness and sleep. Dive into the blissful state of being fully present in the moment.
Discover Your Inner Sanctuary
Yoga Nidra is an opportunity to connect with your inner sanctuary – a place of profound peace and clarity that resides within you.
Enhanced Creativity and Intuition
The meditative state induced by Yoga Nidra enhances your creativity and intuition, allowing you to tap into your inner wisdom and insight.
A Gateway to Transformation
Yoga Nidra is a gateway to self-transformation and self-discovery. Embrace the opportunity to explore the vastness of your inner world.
Suitable for All
Our Yoga Nidra sessions are accessible to all, regardless of age or experience. The practice requires no prior knowledge of yoga, making it an inclusive and nurturing experience for everyone.
A Gift of Self-Care
Gift yourself the invaluable practice of Yoga Nidra – a precious gift of self-care and rejuvenation amidst the serene beauty of Goa's beaches.
Reserve Your Serene Spot
To ensure an intimate and tranquil experience, we have limited spaces available for each Yoga Nidra session. Secure your spot in advance to embark on this transformative journey.
Join us for a deeply relaxing and transformative Yoga Nidra experience at Om Studio, Agonda. Let the waves of consciousness wash over you, guiding you into the realm of profound relaxation and inner exploration.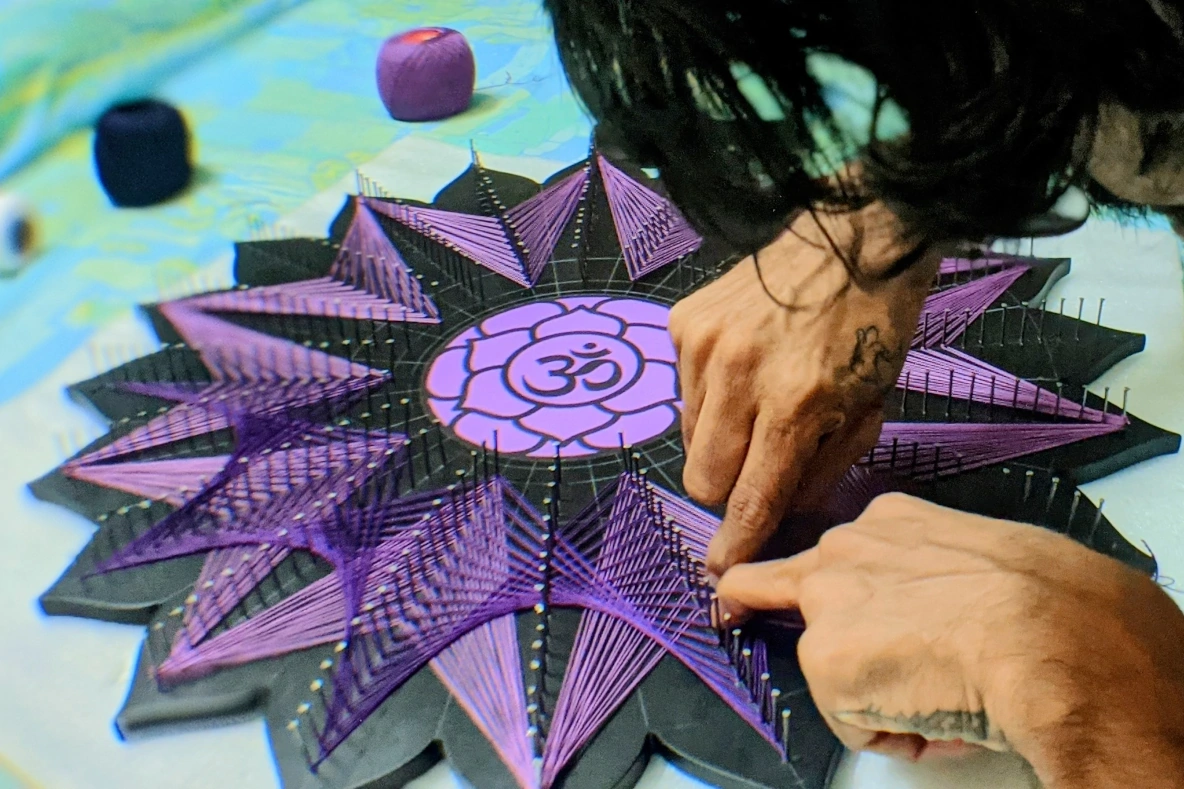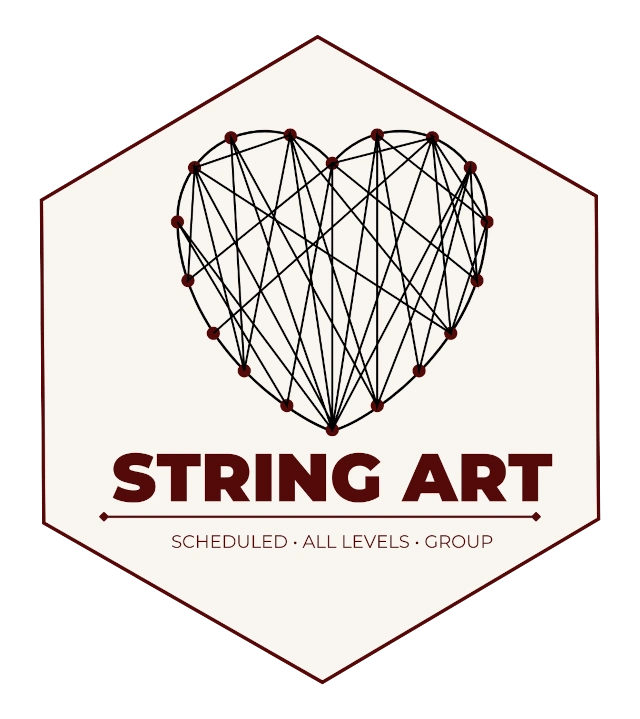 String Art Therapy
Namaste and a warm welcome to our beachfront studio in the vibrant paradise of Goa! At Om Studio, we are delighted to invite you to unleash your creativity in our captivating String Art Workshop, led by a seasoned and passionate artist.
The Magic of String Art
Discover the Artistic Fusion
String Art is a mesmerizing craft that blends artistry, geometry, and innovation. In this workshop, you'll witness the magic of strings transforming into stunning masterpieces.
Guided by an Artist
Our workshop is led by an experienced and enthusiastic artist Hardeep aka Psyience who will guide you step-by-step through the process, ensuring you feel confident in your creative journey
Explore the Possibilities
Whether you're a beginner or have some experience in art, our workshop offers a space for exploration and self-expression. Each participant will have the freedom to create their unique piece of string art.
Embrace Goa's Inspirations
Draw inspiration from Goa's vibrant culture and scenic beauty as you infuse your string art creation with the colors and essence of this breathtaking destination.
Elevate Your Craft
String Art is not just a craft; it's an opportunity to elevate your creativity and engage your mind in a meditative and fulfilling process.
Mindfulness in Art
Immerse yourself in the present moment as you delicately weave strings, experiencing a sense of mindfulness and tranquility.
A Unique Souvenir
Your completed string art masterpiece will be a unique and cherished souvenir of your time in Goa, holding the memories of creativity and inspiration close to your heart. Let's craft it and bring your masterpiece home!
Embrace Your Inner Artist
Tap into your inner artist and let your imagination run wild during our captivating String Art Workshop. No prior experience is needed – just an open heart ready to create!
Book Your Creative Adventure
Limited Spaces, Reserve Your Spot for our upcoming String Art Workshop at Om Studio. Step into the world of art and immerse yourself in the joy of creation amidst the serene beauty of Agonda.
Join us for an inspiring and uplifting String Art Workshop at Om Studio, and discover the enchantment of artistry while surrounded by Goa's captivating beauty.
Acro Yoga
We invite you to experience the thrill and harmony of Acro Yoga – a joyful fusion of acrobatics, yoga, and trust-building exercises. Acro Yoga combines the dynamic elements of acrobatics with the healing power of yoga, creating a unique and transformative practice that promotes trust, connection, and playfulness. Whether you have previous experience in yoga, acrobatics, or neither, our workshop is designed to provide a safe and supportive environment for everyone to explore and grow in their practice.
The Essence of Acro Yoga
A Playful Fusion
Acro Yoga combines the playfulness of acrobatics, the grace of yoga, and the power of trust to create a unique and engaging practice that encourages connection and collaboration.
Guided by Experienced Instructors
Our Acro Yoga Workshop is led by experienced and passionate instructors who provide expert guidance, ensuring safety and support throughout the workshop.
Trust and Communication
Acro Yoga fosters trust and communication between partners, inviting you to cultivate a deep sense of connection and synergy through shared movement.
Embrace the Beachfront Breeze
Picture yourself soaring into the air, with the gentle beachfront breeze lifting your spirits during the exhilarating Acro Yoga poses.
Strengthen and Balance
Acro Yoga builds strength, flexibility, and balance in both the base and flyer positions. Discover the harmony of give-and-take as you flow seamlessly from one pose to another.
Playful Exploration
In our Acro Yoga Workshop, you'll have the opportunity to explore a variety of poses and sequences, unleashing your inner child and embracing the joy of movement.
Empower Your Practice
Acro Yoga empowers you to transcend your individual practice and share the joy of yoga with a partner, creating a space for mutual growth and support.
All Levels Welcome
Our workshop is open to all levels, including beginners. No prior experience in Acro Yoga is necessary – just an open heart and a willingness to explore new possibilities.
Unite in Flight
Experience the thrill of flying and the joy of connection as you lift each other up – both literally and metaphorically – in our Acro Yoga Workshop.
Limited Spaces, Reserve Your Partner
To ensure a personalized and transformative experience, we have limited spaces available for our Acro Yoga Workshop. Reserve your spot and bring a partner along for a shared journey of connection and exploration.
Join us for an exhilarating and transformative Acro Yoga Workshop at Om Studio,Agonda. where the joy of movement and the beauty of Goa's beaches converge. Discover the magic of connection and trust as you reach new heights together.
Flow Art
We invite you to unleash your flow art prowess with the mesmerizing practices of Poi Spinning and Fire Spinning. Led by experienced instructors, this workshop introduces you to the fundamentals techniques, including various plane control, timing, and rhythm. We provide high-quality props for you to use during the workshop, allowing you to explore different styles and movements while getting comfortable with the spinning motion.
The Essence of Flow Art
Embrace the Flow
Flow art is an expressive and captivating form of movement that allows you to dance with grace and precision. Whether through Poi Spinning or the thrilling spectacle of Fire Spinning, you'll enter a state of mindfulness and connect with the rhythm of your body.
Guided by Passionate Artists
Our Flow Art sessions are led by passionate and experienced artists who have mastered the art of Poi Spinning and Fire Spinning. Their expertise and enthusiasm will ignite your own creative fire.
Poi Spinning Magic
Discover the beauty of Poi Spinning, an art form that involves the rhythmic manipulation of tethered weights. Flow gracefully as the colorful poi spheres create entrancing patterns through the air.
Fire Spinning Spectacle
Take your flow art to the next level with Fire Spinning, an exhilarating performance that showcases the beauty of controlled fire dancing. Experience the thrill of the flames dancing in sync with your movements.
Safety and Technique
Your safety is our utmost priority. During our Fire Spinning sessions, you will receive thorough instructions on proper technique and safety measures, ensuring a captivating yet secure experience.
Unleash Your Creativity
Flow art is a canvas for your creativity. Express yourself freely, exploring various movements and sequences that feel authentic to your unique style.
Connect with the Elements
As you practice Poi Spinning and Fire Spinning at our beachfront studio, immerse yourself in the elements. Feel the sand beneath your feet, the sea breeze on your skin, and the transformational power of fire.
All Skill Levels Welcome
Whether you're a seasoned flow artist or a beginner eager to dive into the art form, our Flow Art sessions cater to participants of all skill levels.
Embrace the Magic
Join us at Om Studio to experience the magic of Flow Art – a dance of passion and creativity that harmonizes with the beauty of Goa's beaches.
Limited Spots, Secure Your Flow
To ensure an intimate and immersive experience, we have limited spots available for our Flow Art sessions. Reserve your spot in advance to ignite your flow and dance with the elements.
Embrace your flow and experience the enchantment of Poi Spinning and Fire Spinning.. Let the elements inspire you as you dance, spin, and ignite your spirit on this captivating journey of flow art.