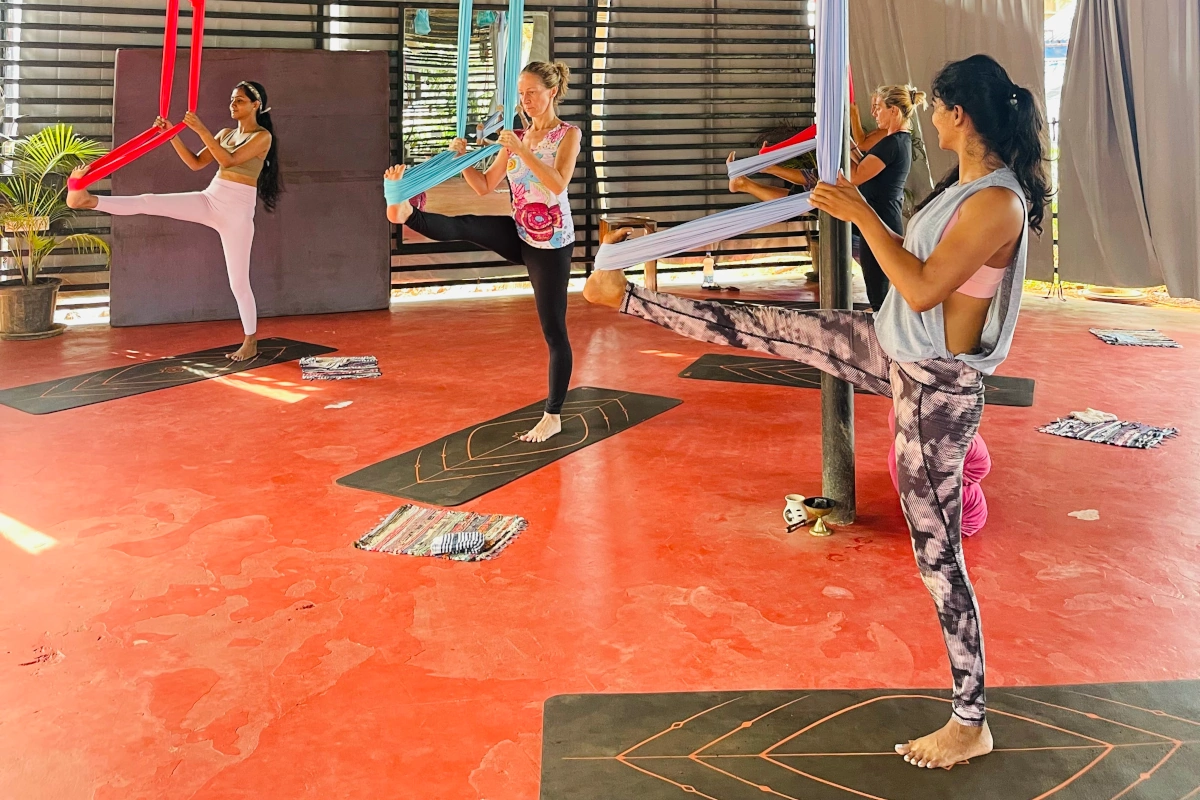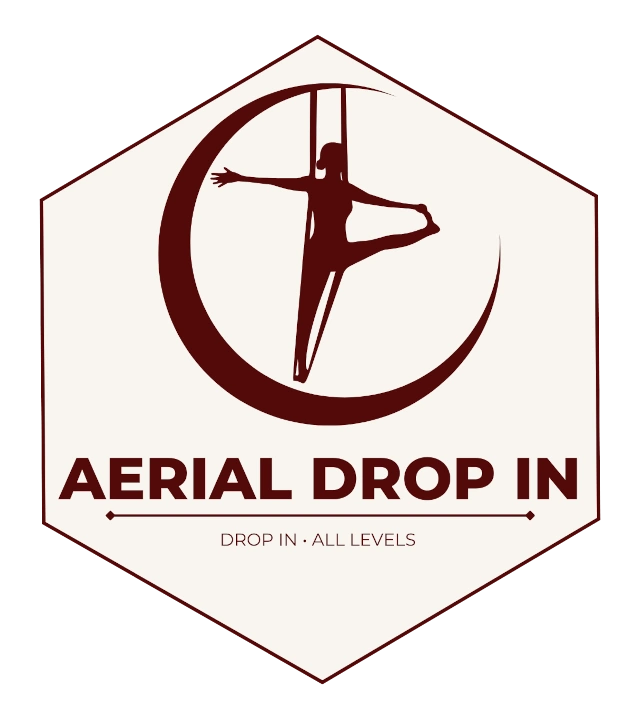 Elevate Your Yoga Practice: Aerial Yoga Drop-In Classes at Our Beachfront Studio in Goa
Namaste and welcome to our blissful beachfront yoga studio in Agonda, Goa!
At Om Studio, we are delighted to introduce our exhilarating Aerial Yoga Drop-In Classes – a unique and uplifting experience that allows you to soar into new realms of yoga.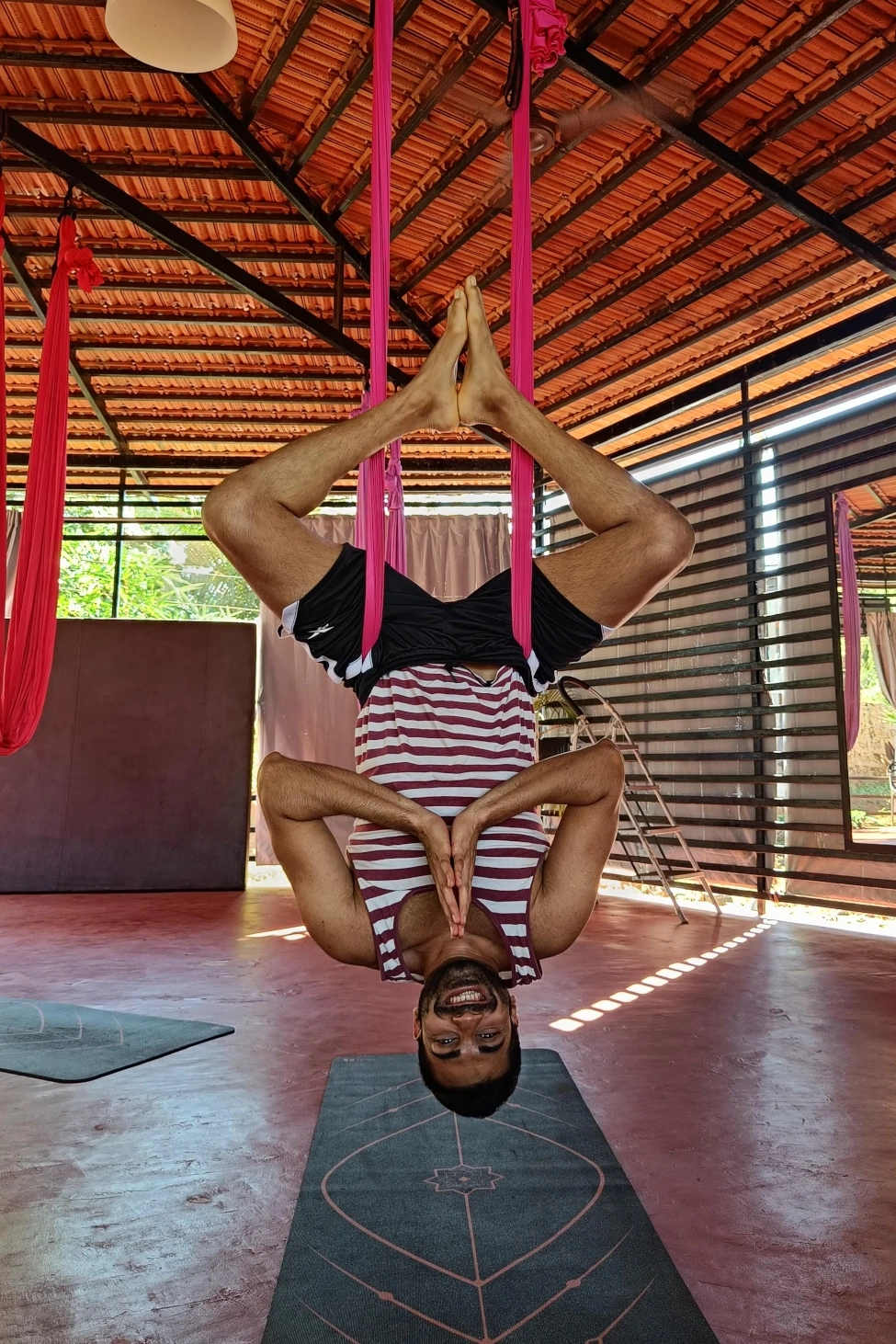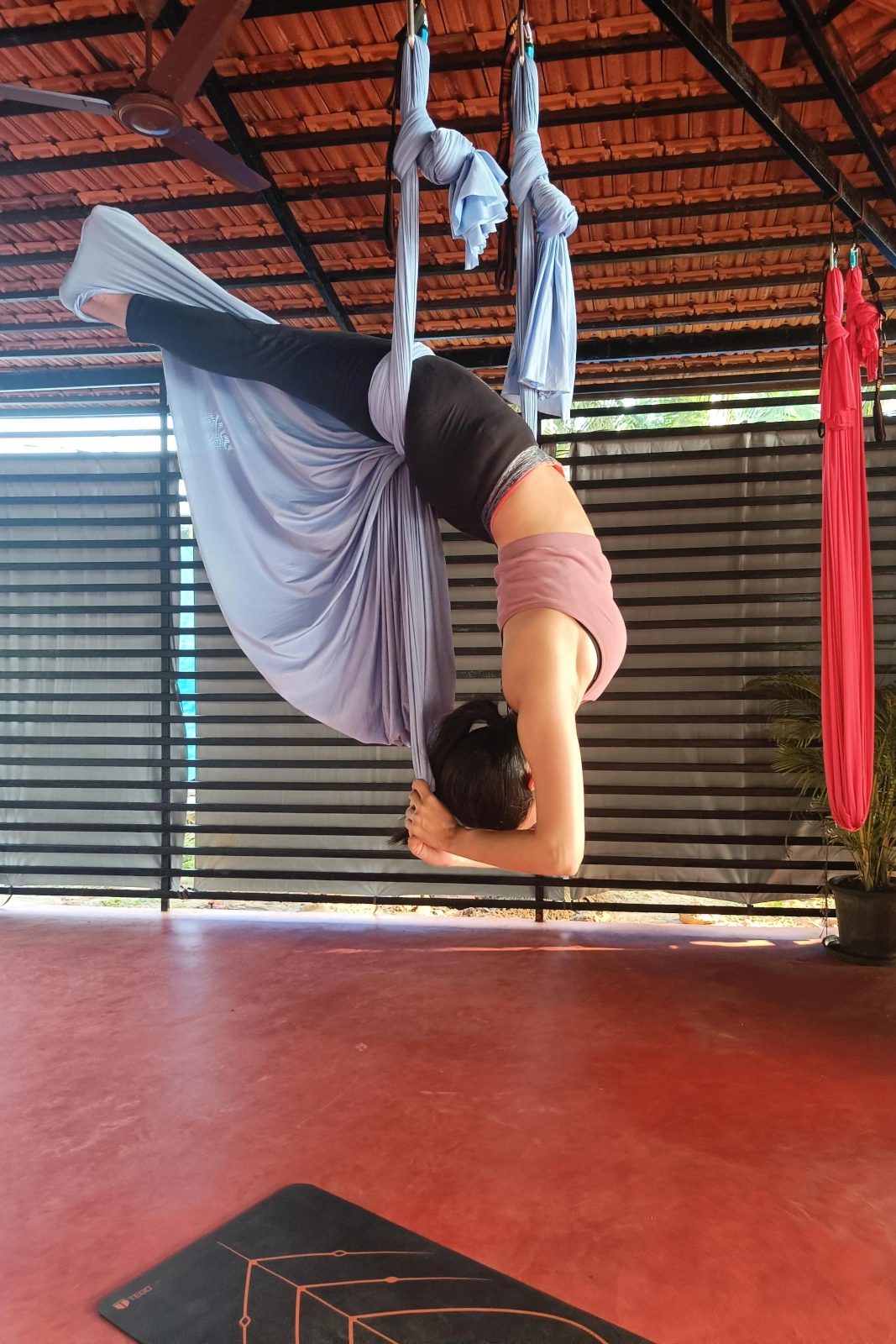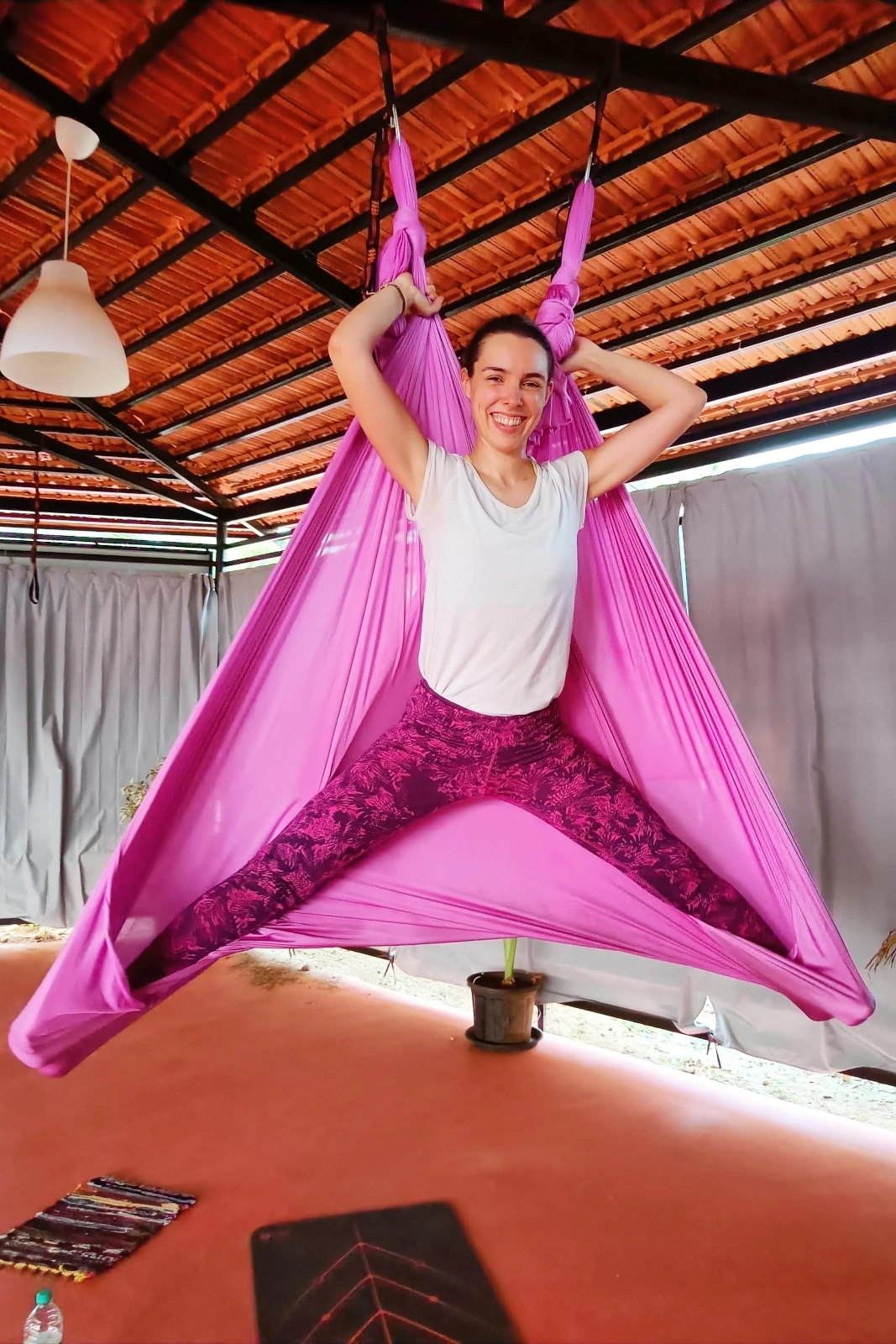 Aerial Yoga – A Dance with Gravity
The Art of Aerial Yoga
Aerial Yoga combines the grace of traditional yoga with the exhilarating freedom of suspended silk hammocks. It offers a dynamic and playful practice that challenges your strength, flexibility, and balance while allowing you to explore creative, gravity-defying postures.
All Levels Welcome
Our Aerial Yoga Drop-In Classes are suitable for practitioners of all levels, including beginners. Whether you're an experienced yogi or new to aerial arts, our experienced instructors will provide a safe and supportive environment for your practice.
Floating Above the Waves
Imagine practicing yoga amidst the gentle sway of the hammock, with the sound of waves as your soothing backdrop. Our beachfront setting adds an extra element of tranquility and connection to nature, enhancing your aerial yoga journey.
Strengthen and Decompress
Aerial Yoga not only builds core strength and flexibility but also provides a unique opportunity to decompress the spine and alleviate tension. Experience the joy of weightlessness as you surrender to the support of the hammock.
Playful Exploration
In our Aerial Yoga Drop-In Classes, you'll have the chance to explore inversions, flips, and aerial poses in a safe and controlled manner. Unleash your inner child as you find joy and wonder in defying gravity.
Mindful Flight
Aerial Yoga is not just about acrobatics; it's also a mindful practice that encourages presence and deepens your mind-body connection. With the hammock as your partner, you'll experience a sense of liberation and empowerment.
Unwind and Relax
At the end of each class, allow yourself to unwind and experience the ultimate relaxation during a gentle aerial cocooning. Feel cocooned in the silk hammock as you let go of stress and tension, experiencing the serenity of savasana like never before.
Limited Spaces, book your spot
Our Aerial Yoga Drop-In Classes have limited availability to ensure personalized attention and a premium experience for each participant. Be sure to secure your spot in advance to glide gracefully into the world of aerial yoga.
Soar to new heights and experience the joy of flight with our Aerial Yoga Drop-In Classes. Elevate your yoga practice and let your spirit dance amidst the beachfront beauty of Agonda. We look forward to guiding you on an unforgettable aerial yoga adventure.
Join us for Aerial Yoga at Om Studio and together, let's reach for the skies while staying grounded in mindfulness and serenity.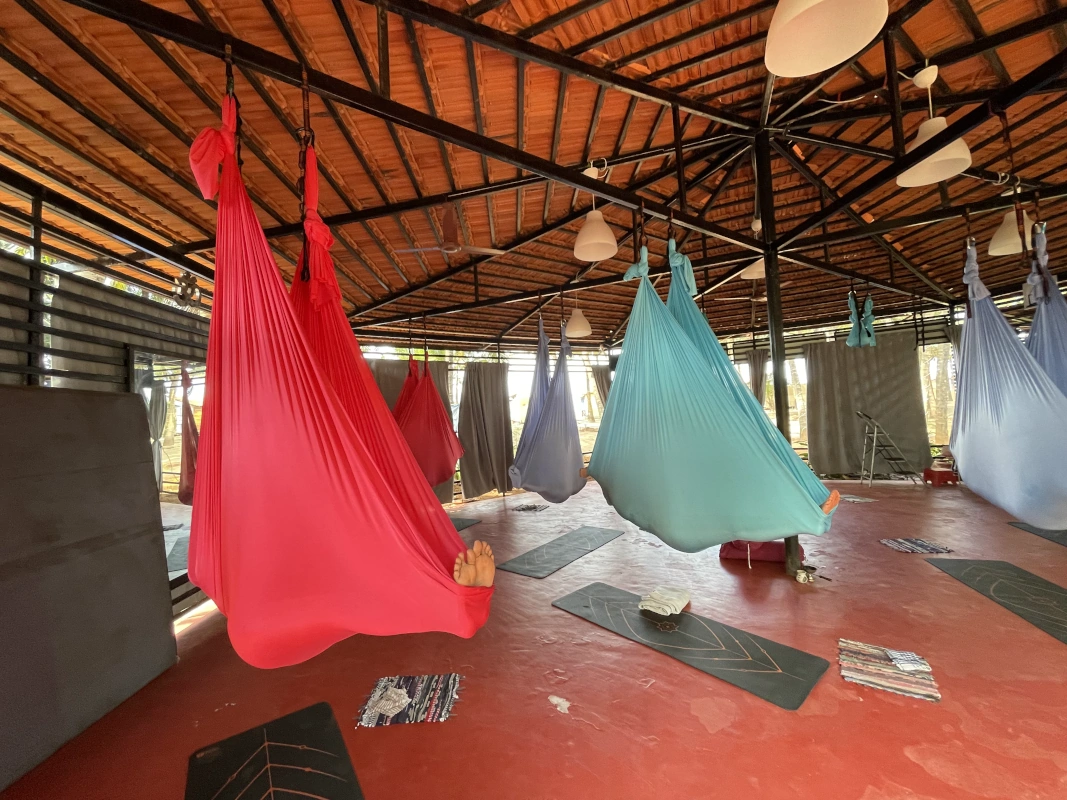 Lotus Dome- Beach Front Shala
Aerial Yoga Class: Duration – 60 Mins
Morning – 9.45 – 10.45 am
Evening – 5.00 – 6.00 pm pm
Anahata Dome- Paddy View Shala
Aerial Skills Class: Duration – 60 Mins
Morning – 9.30 – 10.30 am
FEES
Per class – 800/-