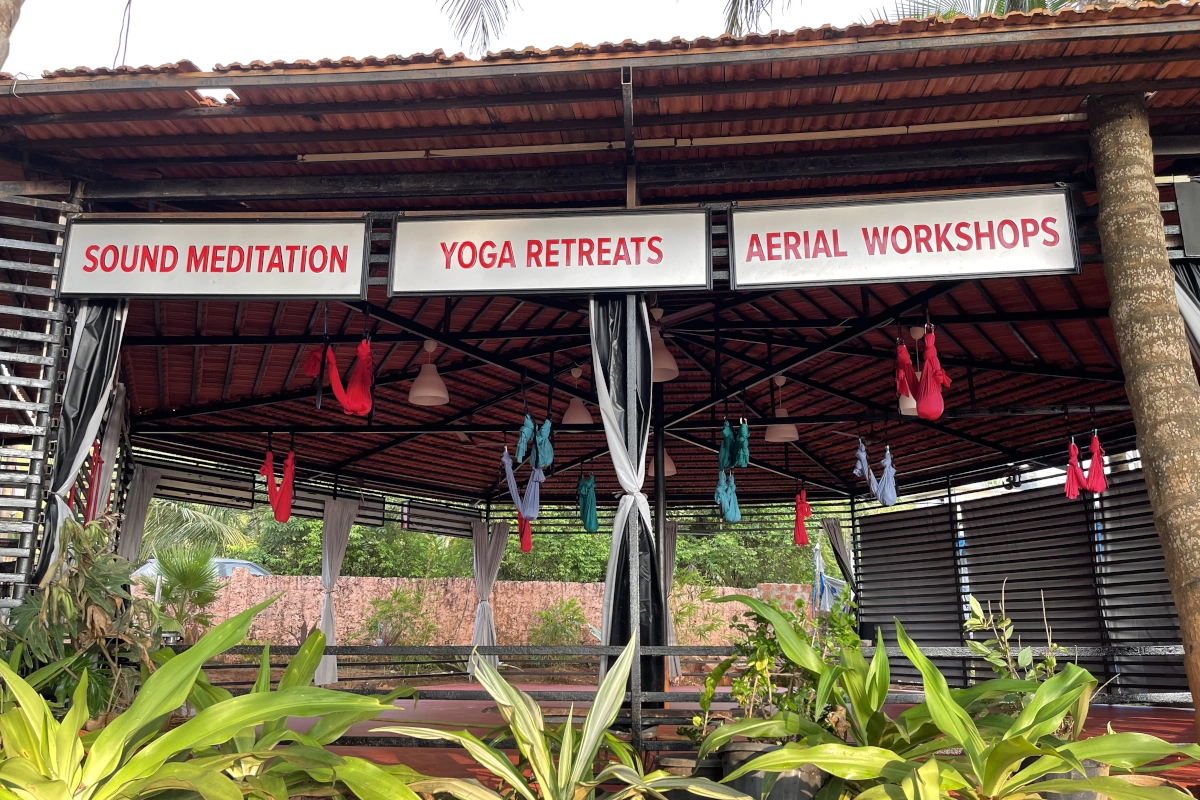 Location:  Agonda
Om Studio is Nestled in the enchanting village of Agonda which beckons with its rustic charm and pristine beach. This hidden gem is the perfect destination for those seeking a tranquil escape and a haven for yoga and wellness enthusiasts.
Agonda's idyllic setting, with its powdery white sands and crystal-clear waters, creates a serene atmosphere that is ideal for indulging in yoga and self-care. At our yoga shalas are nestled amidst the beauty of this coastal paradise, we have a range of offerings designed to rejuvenate the mind, body, and soul. Whether you are a beginner or an experienced practitioner, our knowledgeable instructors provide personalized guidance and support, ensuring an enriching and transformative experience.
Our team consists of highly skilled and experienced yoga alliance certified teachers who are passionate about sharing their knowledge and guiding students on their yoga journey. They have extensive experience in various yoga styles, including aerial yoga and group sound baths.
Beyond the yoga shala, Agonda offers a variety of holistic wellness activities to enhance your stay. Take a leisurely stroll along the beach, letting the sand massage your feet, or immerse yourself in the vibrant local culture by exploring nearby temples and markets. Indulge in delicious, healthy cuisine at quaint beachfront cafes, where you can savor the flavors of Goa, nourishing your body from within.
In this picture-perfect setting, Agonda serves as a sanctuary for those seeking a refuge from the hustle and bustle of everyday life. Whether you are looking to deepen your yoga practice, relax and unwind, or simply bask in the beauty of nature, Agonda and our yoga shala offer the perfect backdrop for your journey to wellbeing. Come and experience the magic of Agonda, where wellness and bliss await.
We Have 2 Shalas :
Shala 1 :
Lotus Dome : Beach Front Shala
Welcome to Lotus Dome, our beach front shala in the stunning town of Agonda, Goa.
We named our shala "Lotus Dome" due to its unique lotus shape, resembling a hexagon. The lotus has deep symbolic meaning in various spiritual traditions, representing purity, enlightenment, and spiritual growth. It serves as a fitting symbol for our space, reflecting our commitment to providing transformative experiences for our participants.
Drop-ins are welcome, allowing you the flexibility to join our classes at your convenience. At Lotus Dome, we offer a variety of practices to support physical, mental, and emotional well-being. Our diverse offerings include traditional yoga, aerial yoga, and group sound bath drop-in sessions. Each of these practices has its own transformative qualities and is designed to cater to different needs and preferences.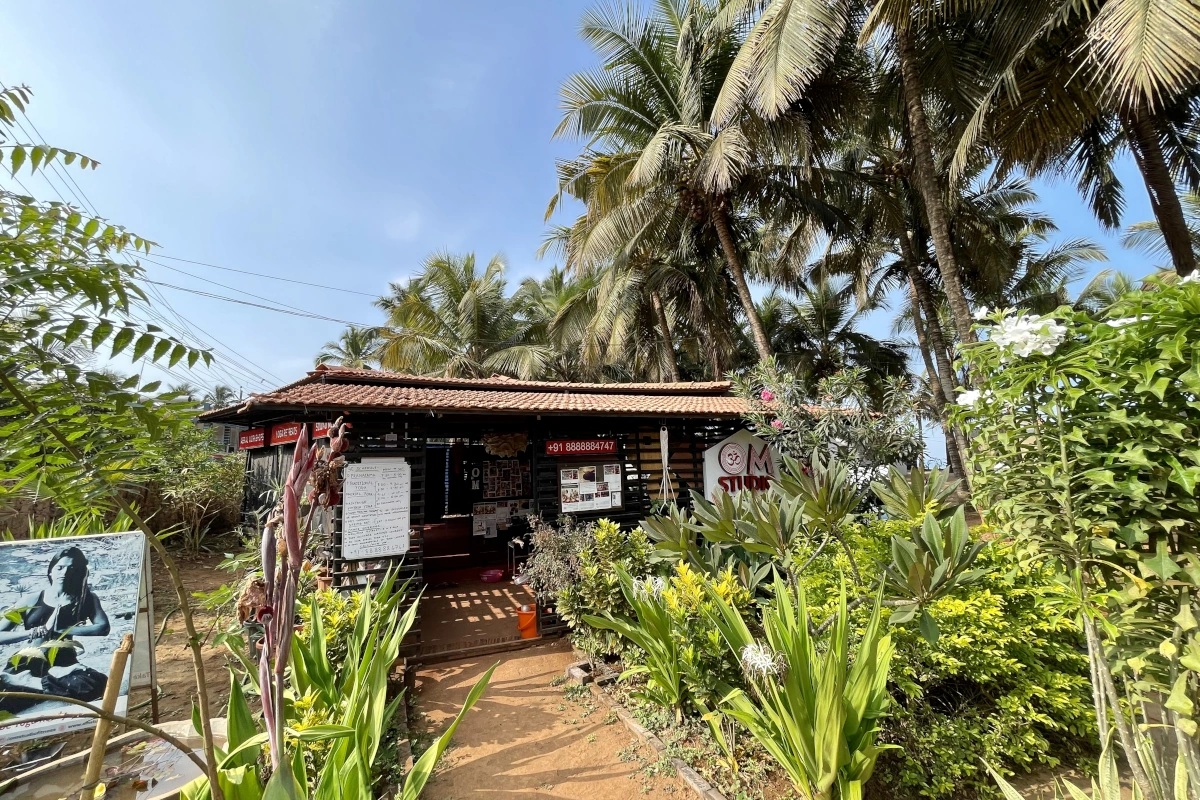 Our shala is situated right by the beautiful beach, offering breathtaking views and a calming atmosphere. Whether you are a beginner or an experienced yogi, we have a wide range of classes to cater to your needs. Whether you prefer a grounding Hatha session or an uplifting Vinyasa flow, our teachers will ensure that you receive a personalized experience tailored to your level and body's needs.
In addition to the traditional yoga classes, we also offer aerial yoga, where you can experience the freedom of movement and strengthen your body while suspended in the air. It is a unique and fascinating practice that combines the benefits of yoga and acrobatics.
For those seeking a deeply relaxing experience, our group sound baths are the perfect choice. These sessions incorporate soothing sounds and vibrations that promote relaxation, reduce stress, and facilitate a sense of harmony within the mind, body, and soul.
Join us in our classes and sessions to immerse yourself in practices that nourish your body, calm your mind, and uplift your spirit.
Shala 2 :
Anahata Dome : Paddy View Shala
Welcome to our paddy view shala, nestled amidst the lush greenery of Agonda, Goa. Our tranquil space provides a unique setting for individuals seeking relaxation and personal growth. Surrounded by picturesque paddy fields, our shala offers a serene and peaceful atmosphere, allowing you to connect with nature and find inner tranquility. The breathtaking views of the sprawling rice fields, chirping birds & singing peacocks.
We chose to name our shala of sound healing and meditation "Anahata," which translates to "the unstruck" in Sanskrit. This name holds deep significance in the realm of yoga and spirituality. In yogic philosophy, Anahata is associated with the heart chakra, the energy center located in the middle of the chest. It is considered the center of love, compassion, and connection. The heart chakra represents the unstruck sound, symbolizing the pure and eternal vibration of the universe that is not produced by any external force.
Seasoned facilitators coupled with their instincts & a range of sound instruments, form Tibetan Singing Bowls, Gongs, Chimes & the most unique in India, Tubular Bells. We aim to create a space where individuals can connect with their heart center, release blockages, and experience the healing power of sound and meditation. Just as the unstruck sound resonates internally, our intention is to provide an environment where people can access their inner harmony, peace, and love.
Our dedicated team of experienced teachers and practitioners is committed to guiding you on this transformative journey, helping you discover the power of your own heart and the connection it holds to the world around you.
In addition to group sound baths, we also offer teacher trainings and workshops for those looking to deepen their understanding of yoga or aspiring to become certified teachers themselves. Our experienced instructors will guide you through comprehensive programs that cover various aspects of yoga, including asanas, pranayama, meditation, and philosophy. You will receive hands-on training and personalized guidance to enhance your practice and teaching abilities.
Step into Anahata, embrace the unstruck sound within, and let us accompany you on a path of self-discovery, healing, and personal growth.