What People Say About Us
Vishu
Hello
My name is Vishu and I am from Meerut, Uttar Pradesh. I work in a government organisation.
To be honest, my yoga journey started by learning a head stand 😀 in 2021 and that process taught me that yoga is not just about doing difficult poses. Then, i met Rinul and became the part of Om Studio Tribe.
I am a runner and i can surely say that practicing yoga with Rinul helped me with my breathing during my runs.

Being able to practice yoga with Rinul has been a wonderful experience for me. I am happy to have Rinul as my yoga guru. She understands your physical limit and work accordingly. It does not feel like you are less than anyone in her classes.

I would definitely recommend Om Studio if you want to start your yoga journey.😊😊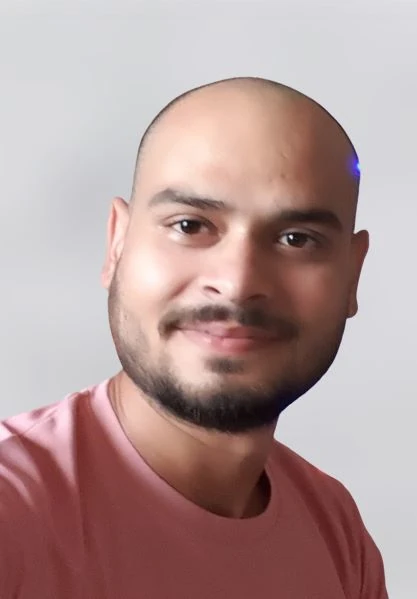 Vishal
I am 27 years young professional Business Analyst at STM Engineers, Pune.
I started yoga in primary schooling as a Compulsory physical activity and continued it for years as a form of exercise only.
June 2020, immediately after the pandemic lockdown, my mentor suggested that I take a trial session at OM Studio with Yoga instructor Rinul, and that's how I began to understand Yoga beyond physical activity.
From my very first session, I was captivated by the connectivity to the practice – sync of breath and flow of the movement, holding posture with awareness and the sense of calmness it brought to my mind. Each session became a doorway to leave stress and chaos of daily life behind and reconnect with myself on a deeper level.

Through consistent practice, I noticed a remarkable improvement in my physical well being. I experienced more strength, flexibility along with sense of energy and vitality.

Moreover, yoga taught me valuable life lessons that transcended the mat. I developed patience, resilience, and acceptance, not just towards my body's limitations, but also in facing challenges in my daily life. I learned to let go of expectations and judgements, both towards myself and others. I am eternally grateful for my yoga journey and the its positive impact on my life. It continues to be a constant source of support and guidance as I navigate life's ups and downs.

But it didn't end there. Recently, I got the opportunity to join the 200Hrs Yoga TTC program with OM Studio.

As I delved deeper into the knowledge and practice during TTC, I learned to embrace mindfulness and the power of being present in each moment. The meditative aspect of yoga allowed me to silence the constant chatter of my mind and find inner peace. I discovered that yoga is not just about twisting and bending; it's about finding stillness within and connecting with my true self.

To anyone considering to start their own yoga journey, I wholeheartedly encourage you to take that step towards self-discovery.

The first verse of Patanjali's Yoga Sutra is:

__*_"Atha yoga-anushasanam"*_ means "*Now*, the teachings of yoga."

Start yoga NOW. In whatever situation you might be in life, take a step towards yoga. Whether you are seeking physical fitness, mental tranquility, or spiritual growth, yoga offers a path to embrace all aspects of your being. So, don't hesitate to begin your yoga journey. It holds the potential to transform your life and lead you towards a more harmonious and fulfilling existence.

Journey becomes easier and smooth when you have a compassionate Guru.

The reason of continuing my journey with *OM Studio* is Energetic and Compassionate Gurus.

Guruma Rinul – my Yoga guru with a vibrant smile and a heart full of love, radiates positive energy that immediately uplifts everyone around her.

Rinul's teaching style is rooted in compassion, as she believes in nurturing the unique needs and abilities of each individual on their spiritual journey. Her classes are not just about physical postures but also a transformative experience that connects mind, body, and soul. With a wealth of knowledge in yoga philosophy, anatomy, and mindfulness practices, Rinul empowers her students to cultivate self-awareness and inner strength. As a mentor and guide, she encourages her students to embrace their authentic selves and leads them towards self-discovery and growth. Rinul's presence is a source of comfort and motivation, creating a safe space for her students to explore and evolve on their yoga path.

Don't miss the Sound Meditation session by *Hardeep* & *Rinul*, during your transformative journey of self discovery. A single sound session empowers you to explore the boundless realms of the mind and connect with your inner essence.
Vincent Fernadez
As a 38 year old media sales professional, I've always had a busy schedule full of deadlines, meetings and the hustle and bustle of corporate life. I'd never done yoga before, and to be honest, I didn't think it would do anything for me. Little did I know that my first class at Om Studio would be the start of a journey that would change my life. At my first class at om studio, I was welcomed warmly by Rinul and all the other yoga practitioners. The introductory class was gentle and designed for beginners, which made it easier for me to accept yoga with an open heart.
I found yoga to be a great way to balance out my hectic life. It also made me feel more flexible and strong. The stretches and postures helped me relax and ease the tension I was feeling from sitting at my desk all day. Plus, the supportive community at Om Studio made me want to keep doing yoga even when I was feeling a bit off or tired.

If you're thinking about starting your yoga practice, I strongly encourage you to join Om Studio. Here are two reasons why: 1. Expert guidance: Om Studio's yoga instructors are extremely experienced and passionate about their practice. They offer individualized attention and guidance to ensure that beginners feel confident and at ease as they begin their journey. 2. Welcoming community: Om Studio isn't just a yoga studio; it's a supportive and supportive community of yoga practitioners. The warm and supportive atmosphere fosters a sense of community, which helps you stay motivated and engaged in your practice.
Urvi Kodiganti
Hi! My name is Urvi Kodiganti. My passion for movement took root when I was just 13 years old. It all began with an introduction to Bharatanatyam, a classical Indian dance form that captured my heart. Little did I know that this artistic journey would shape the course of my life in the most extraordinary ways. Despite temporarily setting aside my love for movement as I pursued architecture. However fate had other plans and my life took a remarkable turn and I embarked on a quest to understand healing and wellbeing. In this exploration I was guided back to movement in 2020. My desire to move ignited exploration of skills like gymnastics, aerial silk, body improv. This journey eventually led me to the transformative practice of yoga which I now embrace wholeheartedly.
One of the most vivid and memorable moments during this time was when I crossed paths with Rinul during my Aerial Silk teacher training in Goa. At that moment, I was going through a challenging phase, struggling with my emotions and thoughts. Rinul compassionately embraced me for who I am, and gently guided me to the path of yoga, which became a beacon of light in my life. I was Initially skeptical about how yoga could truly help me, yet I decided to give it a chance. As I continued my yoga Teacher Training Course with Rinul, something magical happened within me – a profound transformation that radiated outward and touched every aspect of my existence.

Rejuvenated and inspired, I regained my spirit and found purpose again. I started teaching aerial silks, conducted programs to empower women through movement, and started sharing my knowledge and passion for yoga with anyone in need.

This journey made me realize that OM studio is not just a physical space; it is a sanctuary for kindred spirits seeking to break free from societal labels and embrace the vibrant colors of life. It is a place where authenticity thrives, where movement and nourishing food are revered. It is a place where creativity and self-acceptance find their expression through art and sound healing journeys. I also envision a community built on shared values and hence choose to flourish with Om studio.

If you also find yourself drawn to the notion of vibrant living, embracing creativity, and rejecting societal definitions of success, OM studio in Goa beckons you with open arms. Step into this haven of authenticity and join the tribe that celebrates movement, nourishment, and the boundless possibilities of the human spirit.
Sumit Swamy
Hello, myself Sumit Swamy. I'm currently working in an NGO as a program manager and I am also a recreational athlete. I started my Yoga journey with Rinul during the lockdown as I could not go out for runs and gyms were closed! I had been training for more than a decade.. Lifting heavy and running long distances. But my experience of practicing Yoga consistently for the past year or so has been just fascinating! It has given me a completely different dimension to look at my health and life in general. My body feels so much more aligned and connected with my mind. I feel energetic.. My postures have gotten so much better!! I feel more connected with my self. It all feels so great! I would definitely recommend everyone to join me on this beautiful journey with Om studio!!
Sumit Acharya
Writing about my Yoga journey with Om Studio Agonda, is not something I can express in words( the best feelings in the world cant be), however I dare to make an effort.
"Sthiram Sukham", is the most important aspect I learnt from Rinul, an art of balancing.
I worked in a corporate which required 12-15 hours a day, all I knew was to be on the go, getting things done, being stressed all the time, skipping meals, eating junk, winning accepting challenges all the time, I had begun to think that is life.
This happened until Covid hit and I was forced to work from home and I decided to be in Goa for a while where I met Rinul & Hardeep who by God's grace happened to by my neighbors.

I met them as they invited me to opening of Om Studio Agonda, and there was something different in the air, I instantly felt calm, at ease( even though I had tons at work to worry)

I did their Yoga , Sound Bath, meditation and Aerial Sessions, I began to learn from them Yoga(which I has done before many time) isn't just about Asanas, Its something deeper and deeper with no rock bottom to hit.

Aerial was so much fun, Flying and Falling( not literally) has never been more fun. Sound Bath transports you to a place far far away, away from everything negative where world seems beautiful and time stands still

Hardeep has mastered the art of sound meditation.

I started learning about how all the solutions lie within us, with Om Studio yoga classes I realized the problems in my life are only as big as I would want them to be, that I was the one giving power to my worries and making them bigger

'Aham Brahmasmi' is what Rinul really taught me, now I cant really explain what it means to me or did to me, but today I am a happy person nothing bothers me though I still work in Corporates where competitions still exists, but I am not competing anymore.

This is something I hope every human realizes because everyone deserves to discover their own journey of happiness from within.

I am forever thankful for that day when my met amazing human who started Om studio Agonda with a great cause in mind, today when I practice my yoga I first close my eyes and imagine I am there and then begin

Not sure if it is the Vastu of the place or may be just the right intention or the sound of the sea that you hear or a combination of all, but when I practice my yoga there it just brings immense peace and stability to my body, mind and soul.

At the end of the day life is really simple, Breathe In…. Breathe Out

Smita Acharya
Shruti Mehta
Hi my name is Shruti Mehta,
I did my graduation in BBA (IB) from MIT, Pune in 2022.
I worked 3 years at a dance company in Pune as a senior instructor and recently started with my own projects and classes. I am a Choreographer,Dance movement therapy practitioner and an aerial yoga instructor.
For me my Aerial yoga journey began in 2019 when Om studio was situated in Pune. I saw it online that there's something called aerial yoga while I was actually searching for traditional yoga classes. I went in for my first trial class and there was no going back after that. Rinul made sure I fell in love with aerial from the 1st class itself. She is the most humble, respectful, knowledgeable and dedicated teacher one could ever have. I used to look forward to every single class and we used to have fun trying flows together. With consistency I started doing advance flows and she always made sure she fullfilled all my demands for any crazy drop that I wanted to try.

As I started aerial yoga I saw a huge progress mainly in my upper body strength, flexibility, core control, body awareness and overall fitness. When I started with my own little venture and teaching in January 2023 I see the same happiness on my students face as I always had whenever I learnt something new. That brings me immense joy and pleasure.

I wanted to do my teacher training course with Rinul Pashankar under Om studio itself before Covid but we couldn't do it because of the lockdown and then studio shifted to Agonda, Goa. I waited for 2 years almost but I was sure I wanted to do my TTC only under Rinul and Om studio. After my graduation I went to Agonda stayed there for 10 days and finished my TTC. Those are the most beautiful days I have had. I chose Om studio even after 2 years because I know there's nobody who would be into their work with this amount of dedication and not just in for the money other than Rinul.

I Highly recommend anybody who wants to do their Aerial Teacher training to do it with Om studio under Rinul. She makes sure you are well equipped with knowledge and skills to start with your own practice. And even after practice she has always guided me whenever I had any difficulties or questions. The entire TTC changed my perspective towards a lot of things and I will be eternally grateful for that. Whatever I am today, the ability that I now have to spread the same knowledge and skills to others is only because of Rinul. I wouldn't be here today with successful classes running if it wasn't for Om studio.

Thank you ❤️
Sheetal fortes
I have been learning yoga from Rinul since a year now, she is one of the most sincere and dedicated teacher I have come across. Her passion for teaching yoga is obvious from day one, she not only teaches u about the asnas, but also the way of life. She emphasis on how one must try to incorporate yoga in our daily life and how we need to balance our life.
It's a bit of a challenge for me to come on the mat on a daily basis but Rinul hasn't given up she keeps stressing how important is slef practise in yoga. Her patience and dedication is something that really motivates me as a student.
Sapna
Hi, I am an IT professional and a full time mother to a 7 year old. I always wanted to start yoga as I had heard so many benefits of it for the health. I tried different classes and workshops until I found Om Studio. Initially I was reluctant to join an online class but my perception completely changed when I could do headstand without a support with the online class ( I was actually trying it with many other offline classes since the last couple of years). When I started my yoga journey with Rinul, I got hooked with her teaching methodologies and style. She has not only helped me be stronger physically but also took my mental and emotional health to next level. She is a true inspiration for me and I am really grateful to be a part of Om studio tribe. If anyone is looking for an yoga class I would 200 % recommend Om studio ( irrespective of offline or online class). ☺️🙏🏻
Rituraj
I've been visiting Agonda twice a year for yoga and have been participating in online sessions with Rinul, despite my discomfort with virtual classes, solely because of her exceptional teaching skills. Rinul possesses a deep understanding of yoga, from form to philosophy, which has aided me in gaining a clearer understanding of why I practice yoga. She takes the time to assess my body type and limitations before adjusting poses to fit my needs. Each session with Rinul leaves me feeling inspired and confident in my physical abilities.
Ning
I am Ning Yan, a grad student in USA, and my days are often filled with overwhelming stress. To search for internal peace and balance, I joined the yoga class recommended by a friend. Embracing yoga in the morning has become my daily routine, providing me with a sense of calm and clarity that sets the tone for the day ahead and also improves my body strength and flexibility. The Om Studio Tribe is a supportive and lovely community, and Rinul provides the expert guidance and personalized approach for everyone in the class, which have helped me process in my yoga journey. Without a doubt, I 100% recommend starting your yoga journey with Om Studio, especially with Rinul. It's a perfect place to foster growth and self discovery.
Mital Shah
I am Mital, Yoga practitioner & instructor, body- worker and alternative Healing therapist.
I was first introduced to aerial by rinul back in 2018. I love upside down world, so I instantly fell in love with the idea of hanging upside down with a hammock as a support, since I definitely didn't have the strength to hold sirsasana, then.
Starting from 2018 till today, Rinul has been my constant more than just a teacher, she has been a support, motivator and my person to go to for any yoga query. .
With aerial yoga I have built upper body strength. It's easier to hold the stretches each time a little more. My traditional yoga practice has also improved, I can hold the difficult poses for longer now 🙂

Training with rinul is fun, since it's not just yoga that she teaches in her session, it's the overall experience that made me stronger, more confident and resilient. It was a life changing experience for me.

I would recommend everyone who has a chance to experience this one of a kind learning experience.

Thank you Rinul for adding so much value to my practice and teaching skills.
Meenakshi khanchandani
Hi
I started my yoga journey with Rinul about 3 years back during lockdown . We were all locked up at her farmhouse during covid times and this is where it all begun .
Instead of just chilling , Rinul came up with the idea of doing a retreat as there was nothing operational in the outside world .
And it was the time of our lives where all of all felt such powerful energy , such a calling from within.. so pure , so energising , so peaceful , it was the best time of my life . We got up in the morning did yoga , pranayama , ate healthy food , just 2 meals a day , did chanting sessions . It was bliss in these tough times .
And from there on I was hooked on . Rinul guidelines and instructions are very precise . She really pushes you to your limits and beyond . She is full of positivity and energy . I did my first unsupported shriasnana with her .

I never knew it could be this easy . I always had a fear of falling that's y I always did it against the wall . But she said no wall needed now , let's do it in the centre . And with precise instructions and her motivation I was doing it . I felt great .

I am immensely grateful to her for her knowledge and support .

Even if the class is online , it's definitely worth doing it . Thankyou so much Rinul . This has been an amazing journey and this ever learning experience with u has really helped me find me !!

Hari om

Lots of love

Meenakshi
Maura
My passion for Aerial yoga started years ago in my city in Milan,Italy & had a fantastic explosion at Om Studio Agonda with the unique and irreplaceable teacher Rinul. Thanks to her successfully completing the Teacher Training to become a certified aerial yoga teacher and for her professionalism and experience I grew up as a teacher as well as a student.
Aerial yoga makes me a child again, rediscovering the game like the swing with the hammock or the upside down positions to get to the evolutions in the air and all this in safety and tranquility.
The hammock that cradles you and it relaxes you, it can be practiced at all ages and that it improves not only the physique but above all increases self-confidence while giving you a sense of mental lightness and magnificent physics. I love sharing the teachings of Aerial yoga out into this world.

Om studio Agonda has a nothing short of wonderful location facing the sea and surrounded by plants and palm trees, you can't ask for more to practice yoga and all its related disciplines.

but the real strength if you want to undertake yoga and aerial yoga is definitely Rinul who with kindness and professionalism manages to involve you and overcome any difficulty you may encounter and at the end of the journey you are enthusiastic about who you are.

if you come to Agonda beach do try an aerial yoga class in Om studio Agonda and then let me know if my advice was not more than valid.

Hari Om Tat Sat
Marlene Cabral
As a Working Mom to a beautiful human (my 3yr old son) with not much help. It was a real challenge focusing on my personal well-being.
I finally made my way to the mat with my amazing yoga instructor Rinul Pashankar and witnessed a life altering experience.
Through these sessions I have noticed: a deeper sense of connection with my body and it's needs, acceptance and adjustments for situations as they arise, and the ability to breath through the real life moments that are just as challenging as a demanding yoga pose.
I wouldn't have started this journey and stayed on it without Rinul's constant presence, guidance and her kind and loving nature.
Will definitely recommend Om Studio to everyone, as a must try session for a unique and uplifting experience.
Jayesh
I am Jayesh K. Motwani, a graduate student at the Center for Power Electronics Systems at Virginia Tech. A friend recommended Rinul's online classes to me, and they have been a game-changer. Rinul's expertise, calming presence, and attention to correct practices, while still allowing room for personalized adjustments, have immensely helped me nurture growth and self-awareness. Within just three months of practice, I've witnessed significant improvements. I am deeply grateful to OM Studio and Rinul for bringing balance and peace into my life, both on and off the mat. Without hesitation, I highly recommend OM Studio and Rinul for their exceptional yoga classes.
Dheeraj Rai
Hi, I'm Dheeraj Rai, I am a game developer and a gamer with over a decade behind the computers. The physical strain of my profession led me to yoga, which has been transformative, improving both my physical health and mental well-being. The physical alignment and mental clarity I've gained through yoga have been invaluable, teaching me to understand and push my body's limits. Over the years, the physical toll of my profession became evident, particularly on my back. I knew I needed a solution and found it in yoga. Despite my experiences with Muay Thai, Calisthenics, and rock climbing, it was yoga that truly changed my perspective.Overall, yoga has enhanced my focus, reduced stress, and increased my overall sense of peace and tranquility.
My journey began at a local gym, but it was Rinul's teachings on core breathing and correct posture that truly ignited my passion for yoga. My introduction to Om Studio came through Rinul during a trip to Goa. My wife and I spent a transformative month there, experiencing internal and external changes. The daily yoga sessions, followed by a dip in the cove, were nothing short of magical. Although the setting has changed with the shift to online classes, the focus and dedication remain the same. I am grateful to Rinul for guiding me on this enlightening yoga journey.

I wholeheartedly recommend anyone looking to start their transformation journey to consider Om Studio. The guidance, support, and knowledge I received from Rinul and the entire Om Studio team have been instrumental in my yoga journey. The environment is welcoming and nurturing, perfect for both beginners and experienced practitioners. The shift from in-person to online classes has been seamless, with the same level of focus and dedication. My experience at Om Studio has been nothing short of transformative, and I am confident that anyone who embarks on this journey with them will experience the same.
Dale
Firstly I just want to say thank you so much Rinul! You have taught me so much and you're not only incredibly knowledgeable and passionate about yoga but you're such a lovely person and you always go above and beyond. I'm leaving not only with some great foundations for yoga but also with a true friend 😊, it was also so nice getting to know popo, thanks for all the great times guys.I started with a few drop in sessions after only ever doing a couple classes of yoga elsewhere. I felt instantly comfortable and decided to complete a 50hour yoga course over the space of a few weeks. I also loved joining in with the aerial classes, I learnt so much and even ended up enjoying pranyama 😅.
Rinul is an incredibly talented teacher and I would recommend anyone to join one of her drop in classes or if you're lucky enough to have the time then definitely sign up for a course, you won't regret it!

See you soon hopefully Rinul, well miss you guys, thanks for everything, Dale.
Bhavana Sharma
Rinul is the most inspiring yoga instructor I've come across. Being an instructor myself I can say that she is spot on with her ways of explaining & breaking things down,simplifying it even for a beginner. She encourages everyone to explore their bodies through traditional & aerial yoga both with great enthusiasm. Yoga sessions at Om studio was one of my main reasons to stay in Agonda for a whole month & I'm planning my next trip there again to train with Rinul further. Fully recommend yoga sessions with her for beginner to advance level,there's something for everyone to gain.
Aarti Mundada
Hi! My name is Aarti Mundada and I am passionate about Yoga and all it's different forms. I've been teaching Hatha Yoga, vinyasa and power yoga since 8 years. I have also been practising Aerial Yoga for 6 years and have been a certified Aerial Fitness Trainer for 4 years.
I joined Aerial Yoga classes at Om Studio with my daughter back in 2017. We both fell in love with this art form instantly and continued to practice at Om Studio. Not only has Aerial Yoga helped me improve my flexibility and my arm strength but it's also something that continuously challenges me to work on myself.
I am glad I chose Om studio for my Aerial Teacher training. Rinul's unique style of teaching and her constant support helped me gain confidence as I went on to teach Aerial Yoga. I learnt how to give clear instructions under her guidance and now as a teacher I am happy to share with others, the joy that comes from this graceful practice.