Welcome to our serene guest house nestled in the heart of the Agonda valley in Goa, where your journey towards holistic well-being begins. Join us for an enriching yoga training experience, where every aspect of your stay is carefully curated to nourish your mind, body, and soul.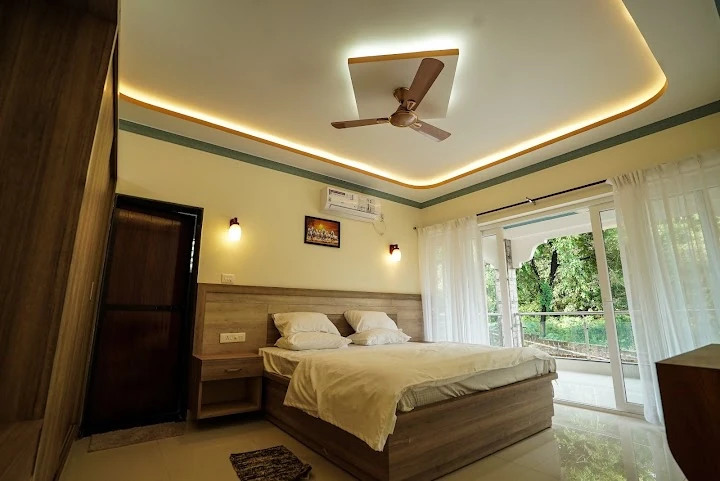 Our guest house offers a tranquil haven for you to unwind and immerse yourself in the practice of yoga. Sharing the experience with a fellow yogi in our spacious shared accommodations, with separate men & women rooms.The bedroom is thoughtfully designed with comfort in mind, featuring a plush king-sized bed and ample secure storage space for your belongings. As you step into the living area, you'll be greeted by a warm and inviting ambiance. Wake up to the gentle sounds of nature and step out onto the private terrace. Here, you'll find a seating area where you can sip your morning coffee or watch the spectacular sunsets as the golden hues bathe the paddy fields, palm trees, and a glimpse of the shimmering sea.
Your comfort is our priority. Our guest house is equipped with modern amenities to ensure your stay is relaxing and convenient. Perfectly situated, our house is ideal for those looking to unwind and soak in the picturesque beauty of Goa. The space is tastefully furnished with comfortable seating arrangements, perfect for unwinding after a long day of exploring. Enjoy a movie night on the flat-screen TV or simply immerse yourself in the serene forest view through the large windows.
Food included – All Vegetarian Meals – Breakfast, Lunch & Dinner
Comfortable king size beds with good mattress, separate linen
Western clean bathrooms
Balconies with valley views & distant sea views
Smart tv in common living room 
Spacious kitchen and a washing machine
Rooftop Shala 
Stay connected with high-speed Wi-Fi while still disconnecting from the stresses of daily life.
Embark on a transformative journey as you delve into the world of yoga, aerial & sacred sounds with our experienced and certified teachers. Our experiences are designed not only to enhance your physical flexibility and strength but also to cultivate inner peace and mindfulness.
Indulge in a gastronomic delight with our delectable and nourishing meals. Our in-house chefs prepare a diverse range of vegetarian dishes, crafted to support your yoga practice and overall well-being. Savor the flavors of locally sourced ingredients, bursting with freshness and vitality. Simple yet delicious & healthy Indian meals with a dash of fresh fruits & fusion food. Three wholesome meals a day are included in your package, ensuring you are energized and invigorated throughout your stay.
Set amidst the lush landscapes of Agonda, our guest house offers a tranquil escape from the hustle and bustle of everyday life. Enjoy the harmonious blend of nature and modern comforts as you explore the nearby beaches, markets, and cultural attractions during your free time. The guesthouse is located 1.2 km from the beach front studio & has a rooftop shala.
Beyond experiences, our guest house provides a nurturing community where like-minded individuals come together to share experiences, insights, and laughter. Connect with fellow participants and forge lasting friendships that extend far beyond your time here.
When you're free to explore, you'll find that the stunning Agonda beach is just a short distance away, only 1.2 kilometers. Spend your days basking in the sun, swimming in the crystal-clear waters, or simply strolling along the golden sands and wander around the famous rock formations at the south end of the beach. Close proximity to explore Palolem, Patnem, Cola, Kakolem and many such gems of South Goa. Experience the true essence of Goa and its laid-back beach vibes.
Join us at our guest house in Goa for an unforgettable yoga training experience that harmonizes the body, mind, and spirit. Let the serene surroundings, comprehensive amenities, and nourishing food be the backdrop to your transformative journey towards well-being. Book your stay with us today and embark on a path to holistic rejuvenation.